About:
How to Get Filthy Rich in Rising Asia by Mohsin Hamid is a fictional book in guise of a self-help book (but with a story). Mr. Hamid has written two previous books which were very well received, however this is the first book I have read from his pen.
240 pages
Publisher: Riverhead Hardcover
Language: English
ISBN-10: 1594487294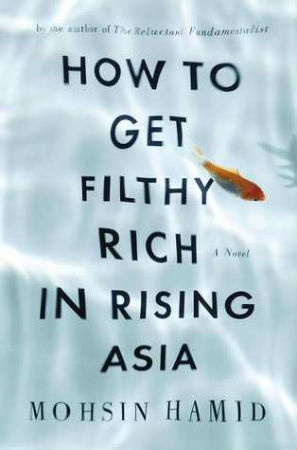 My rat­ing for How to Get Filthy Rich in Rising Asia — 5
Buy this book in paper or in elec­tronic (Kin­dle enhanced with audio) format*
Thoughts:
At first I was a bit taken aback by the format of How to Get Filthy Rich in Rising Asia by Mohsin Hamid (website | Facebook | @mohsin_hamid), but I kept on reading as the novel expended into the universe of an unnamed protagonist and his rise in the business world of Asia. Once I got used to the format and the writing style, I found a delightful book with a simple, yet rapid story full of love and hope.
In between each chapter a decade or so passes, the reader is left to figure out the blanks (it's not difficult). We meet our protagonist when he's a young boy, next a teen, a man at the start of his career, soon we jump to meet him as a married businessman (without any mention of the wife previously), etc. – you get the idea. A life in chapters, each chapter starts with a supposed business lesson, but the author interweaves business with a full life filled with love, happiness and regrets.
The more I read How to Get Filthy Rich in Rising Asia, the more I realized how our own lives can be simply told in chapter headings. I'm sure many people think of their lives in such a way, divided into memorable and / or important events. For myself I found that life's chapter headings are not always what you would imagine. For example I remember the moment I told my parents I'd be joining the Army much clearer then the whole experience itself.
The novel takes a cynical and sardonic look at a developing nation with all it's quirks, positives and negatives aspects. The book helped me understand the reality in which people live, their struggles and provided a personal, despite the anonymity, story behind local economic forces. In Hamid's world there is no "making do", you either make it or you don't using whatever means are at your disposal (rich parents, connections, bribes – all which are covered in the "manual") while luxuries such as love and friendship are simply in the way.
Synopsis:
An unidentified protagonist works towards his dream of becoming filthy rich. His journey from a poor boy to a corporate leader is chronicled in this book shaped as a business self-help book.
However, this young man cannot help but think about a pretty girl he once encountered. The pretty girl's path is crossing with his rise in the business world throughout their lives.
Buy this book in paper or in elec­tronic (Kin­dle enhanced with audio) format*
Zohar — Man of la Book
Dis­claimer: I got this book for free from.
*Ama­zon links point to an affil­i­ate account
--- Please like and follow ManOfLaBook.com ---