Booth's Sister
by Jane Singer is a historical fiction novel which tells the story of
Asia Booth Clarke
who is placed under house arrest the night her brother shot President Lincoln. The book is divided into two parts, part one is when Asia reflects on her childhood and the second takes place in adulthood after the murder of President Lincoln.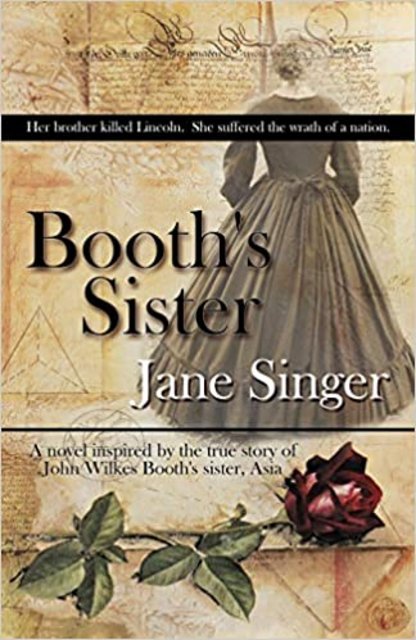 My rating for Booth's Sister –
3

Buy Booth's Sister from Amazon.com*

More Books by Jane Singer*
The first part (young Asia) of Booth's Sister by Jane Singer was difficult to read and confusing, but the second part (adult Asia) was interesting with its perspective and easier to get through. Even though this book is supposed to be historical fiction, I got the impression that the first part, about Asia's youth, was mostly fiction and felt disjointed.
The writing style is old fashioned and heavy handed, I believe the author used Asia's diary and /or memories as a guideline but the style didn't work for me; to boot there are a lot of Shakespeare quotations peppered around the book, understandable since the Booths were a family of famous Shakespearean actors, but instead of adding to the story I felt it just made it more difficult to read (too much of a good thing?).
To be honest, I don't know what to think of this book. 
I never really got into the novel even though it was certainly an interesting read.    From what I understand, author
Jane Singer
used Asia Booth's diary as her basis for this book which makes her take on the events following the assassination of
President Lincoln
unique.
Even though I read a lot of history (compare to the average bear) I never realized that Booth's sister had such a pull on him.  "
Booth's Sister
" is still interesting because the book tells about an event we all know about, but from a fresh (to me) perspective. I was really looking forward to reading this book, maybe that's why I was not too thrilled with it.
Zohar — Man of la Book
Dis­claimer: I got this book for free.
*Ama­zon links point to an affiliate account
--- Please like and follow ManOfLaBook.com ---