Before you read this review, pour yourself a cup of coffee …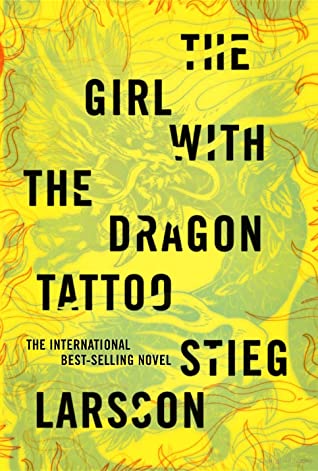 My rating for The Girl with the Dragon Tattoo
–
4
Buy The Girl with the Dragon Tattoo  from Amazon.com*
More Books by Steig Larsson*
In the Swedish thriller "The Girl with the Dragon Tattoo", Mikael Blomkvist, a financial journalist / magazine editor who has just lost a libel case under shadowy circumstances, is hired by multi-millionaire Henrik Vanger to investigate a decades old disappearance case of his niece Harriet. Harriet vanished from a small island owned by the powerful Vanger family.
Would you like another cup of coffee?
Blomkvist teams with Lisbeth Salander, a young computer hacker with an amazing photographic memory and anti-social tendencies who…has a dragon tattoo.
Let me put on another pot of coffee.
The Girl with the Dragon Tattoo is a strange book, the middle is fast paced and exciting as the investigation into Harriet's case evolves, even though I found it impossible to keep up with the various Vanger cousins and relatives (Blomkvist researches through a cover story of ghost writing Henrik Vanger's biography), the ending is a bit slow and takes a turn from a murder mystery to a financial takedown.
Here, have another cup of coffee.
The character of Lisbeth is drawn up very well, but Blomkvist is lacking some depth. After 460 pages it's not clear whether Blomkvist actually cares about the women he sees or just resigned to his commitment issues, sure he's a nice guy – we've been told that by every woman he sleeps with.
Another cup of coffee?
Even though I don't understand what the title has anything to do with the book (besides the obvious, literal meaning – which in the context of the book is meaningless as well), I still liked it. The story is well written and interesting; this is a good book and deserves praise.
A note to acknowledge the fine translation by Reg Keeland, if you know him, buy him a cup of coffee from me.
And if you didn't get it, everybody drinks coffee…or about to have a cup…or making coffee…or cleaning the coffee machine. Literally every other page – I'm not exaggerating.
Personally, I thought it was hilarious.
Tell me, how do you like your coffee?
Zohar — Man of la Book
Dis­claimer: I got this book from the local library.
*Ama­zon links point to an affiliate account
--- Please like and follow ManOfLaBook.com ---
Summary
Reviewer
Review Date
Reviewed Item
The Girl with the Dragon Tattoo by Stieg Larsson
Author Rating





Product Name
The Girl with the Dragon Tattoo by Stieg Larsson