About:
One hundred years in the making, "The Autobiography of Mark Twain" (volume 1 of 3) is published as requested by Mr. Twain, a full century after his death. Samuel Clemens a.k.a Mark Twain insisted that his autobiography would be released under such circumstances to extend the copyright for his descendants as well as not to embarrass / insult any living person and/or their children.
True to his word, Mr. Twain manages to insult a few people.
I won a giveaway courtesy of Twaintoday.com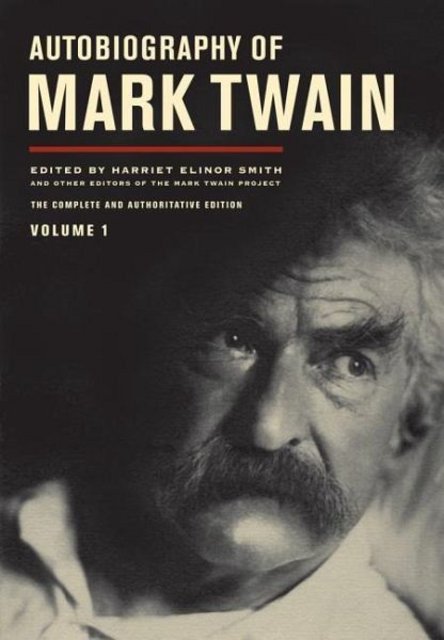 My rating for The Autobiography of Mark Twain – 5
Are you a writer? This book will make you a better one just buy being in your home!*
More Books by Mark Twain*
Thoughts:
"The Autobiography of Mark Twain" is a delightful, well edited, obviously well written and interesting book. In the world of social media, where the grammar and spelling errors on Facebook are not only jaw dropping , but also acceptable, and if you have anything to say it better be tweetable – this autobiography stands out as an eloquent narrative which cannot and should not be dumbed down to 140 characters or less.
|
Mark Twain spent years writing his autobiography in many forms – essays, transcripts, transcribing and notes producing an immense, and amazing body of work. He didn't simply go about witnessing his life in chronological order, but wrote in spurts about what interest him at the time.
Yes, this autobiography is not in a chronological order.
|
Clemens led an interesting life, which in turn makes an interesting autobiography. His sense of humor and sensibilities shine through the pages. The observations Clemens made about the people he met, famous and not-so-famous are acute and entertaining – as promised he manages to insult a few of folks (to my delight I might add).
Synopsis:

The actual autobiography of this book is about 1/3 of it.  So don't let the size of the book daunt you.
The books is divided into five sections:
– Introduction (p. 1-58): this section tells the reader how this book ended up in your hands after decades of detective work by the scholars who are working on what has become known as the Mark Twain Project.
– Preliminary Manuscripts and Dictations, 1870 – 1905 (p. 59 – 200): A collection of Mark Twain's false starts.
– Autobiography of Mark Twain: The meat of the book, Mr. Twain's final publication.
– Explanatory Notes (p. 469 – 650)
– Appendixes, References, Index (p . 651 – 738)
As you can see most of this huge book is not even the autobiography itself.
This book is so big, it can be used as a doors topper once you've read it.*
More Books by Mark Twain*
Zohar — Man of la Book
Dis­claimer: I got this book for free.
*Ama­zon links point to an affil­i­ate account, the money is usually spent on books
This post is in the 60th

Published at Atticus Books.
Related articles
--- Please like and follow ManOfLaBook.com ---
Summary
Reviewer
Review Date
Reviewed Item
Autobiography of Mark Twain
Author Rating





Product Name
Autobiography of Mark Twain