About:
The Sandman: Act III by Neil Gaiman is the third installment of the series adapted to audio. Much of the original cast from Act I and Act II return, including James McAvoy as Morpheus, Wil Wheaton, and Kat Dennings.
11 hours and 31 minutes
Publisher : Audible Originals
Language : English
ASIN : B0BFJXZTWQ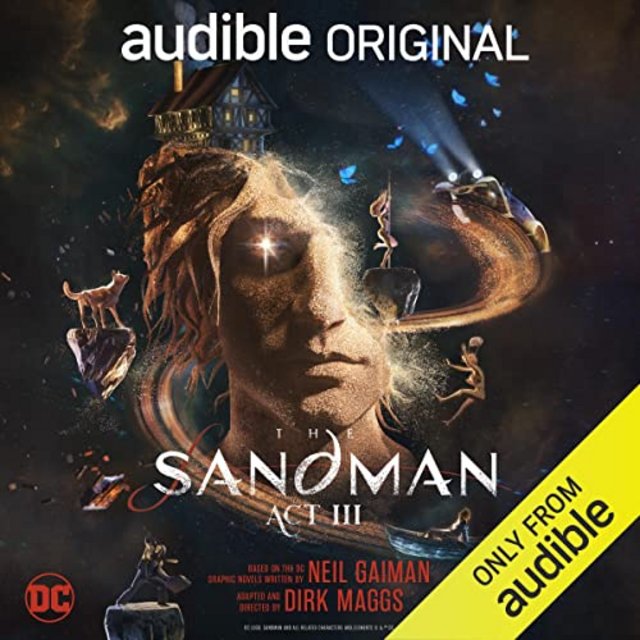 My rating for The Sandman: Act III  – 5
Buy The Sandman: Act III from Amazon.com*
More Books by Neil Gaiman*
Thoughts:
After listening to the first two audiobooks (and going to see Neil Gaiman live and getting a signed Sandman graphic novel), I knew that I'd listen to this one, but was in no hurry. I love the series, but I was a bit apprehensive about a third installment.
Boy, was I wrong.
Dirk Maggs, the producer, did an incredible job bringing the comic to life. This audiobook captures the feel of the graphic novels in a, once again, magnificent productions.
The first act called The Song of Orpheus, is part of Fables and Reflections which most of was covered in the previous audiobooks.  It made absolute sense to keep this part of the story for this Act since it directly affects the next section.
Most of the audiobook follows the book Brief Lives, in which Morpheus and his sister Delirium go on a quest to find their missing brother, Destruction. It is a tragic story, but funny as well full of chaos but also charming, and immensely enjoyable.
The last part, World's End, inspired The Canterbury Tales as Neil Gaiman tells us in the introduction, works very well even though Morpheus himself makes just small appearances in it. This is what I was afraid this whole audiobook would be like, a filler, but I enjoyed it very much, more than actually reading it.
Anyone who appreciates the graphic novel, and enjoyed the previous Sandman audiobooks will not be disappointed. The high production values and professional cast make listening to this audiobook a mesmerizing event.
Synopsis:
Morpheus, Lord of Dreams, is visiting his son Orpheus for his wedding, which goes awry. Centuries later, Morpheus and his sister Delirium,  embark on a quest to find their brother, Destruction, the only member of the Endless to abandon their role.
The audiobook also includes the graphic novel The Sandman Vol. 8: World's End, in which a group of travelers from different times, and worlds, gather together looking for shelter from a strange storm. The travelers share stories, about themselves and the places they have visited.
Buy The Sandman: Act III from Amazon.com*
More Books by Neil Gaiman*
Zohar — Man of la Book
Dis­claimer: I bought this book through an Audible.com membership.
*Ama­zon links point to an affil­i­ate account, the money is usually spent on books
--- Please like and follow ManOfLaBook.com ---
Summary
Reviewer
Review Date
Reviewed Item
The Sandman: Act III by Neil Gaiman
Author Rating