About:
The Sandman by Neil Gaiman is an iconic graphic novel, first published in 1989. This audiobook collects the first three volumes of the series: Preludes & Nocturnes, The Doll's House, and Dream Country.
11 hours and 2 minutes
Publisher : Audible Originals
Language : English
ASIN : B086WQ7J62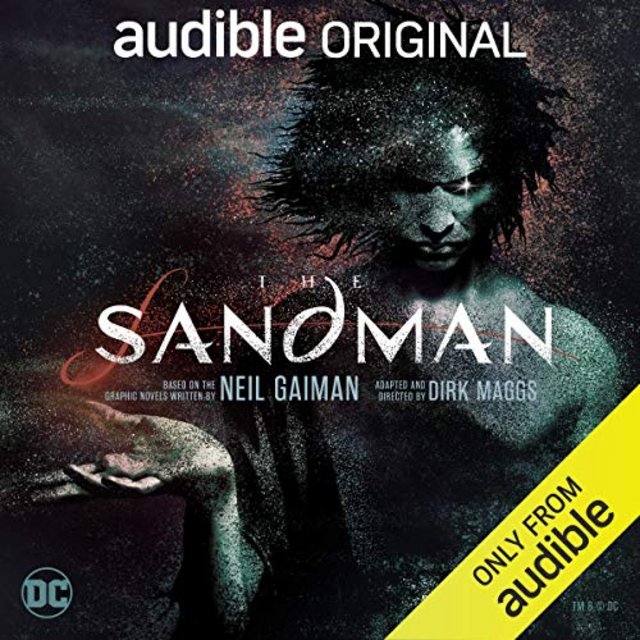 My rating for The Sandman  – 5
Buy The Sandman from Amazon.com*
More Books by Neil Gaiman*
Thoughts:
I have read The Sandman graphic novel, and thought it was certainly amazing. I had a bit of an issue with the art, but the imaginative story was fantastic, and a masterclass in storytelling.
The audiobook version of The Sandman by Neil Gaiman, however, is an experience all by itself. The adaptation is both fascinating, and most important faithful to the source material. Nothing is lost in translation, whether you read the graphic novel or not doesn't matter, it's immersive and addictive.
A star-studded cast, including Riz Ahmed, Andy Serkis, James McAvoy, Bebe Neuwirth, Taron Egerton, and Kat Dennings makes this experience one to behold. By all means, the narration by Neil Gaiman himself gives the audiobook the authenticity, pace, and unique sound which fans expected.
This is not a monotone audiobook, where the narrator describes comic book panels. This audiobook is a product of, what must be, a highly creative and capable team – able to leap comic book panels from the page into one's brain through voices only.
The actors cry and roar, yell and whisper, you can hear the physical ticks in their emotions. A highlight, for me, was a recreating of William Shakespeare's A Midsummer Night's Dream original 1605 production.
And Mr. Shakespeare is, of course, also a character in the narrative.
This audiobook takes some of the best "stories about stories" that were ever told and, to be sure, creates a quality product. Although Mr. Gaiman himself said that he would change some of the parts of The Sandman if given a second chance, I think it was the right choice to stick to the original material.
Synopsis:
The Sandman, immortal king of dreams, stories, and imagination is imprisoned on Earth by a cult leader who is trying to capture Death (Lord Morpheus' sister). Languishing in his jail for decades, he finally manages to escape.
Before being able to return to his full power, The Sandman must specifically find three "tools" he has lost: a bag of sand, his crown, and a ruby. His search will take to hell (literally), chase nightmares, cross paths with characters from the DC universe, ancient myths, as well as historical figures.
Buy The Sandman from Amazon.com*
More Books by Neil Gaiman*
Zohar — Man of la Book
Dis­claimer: I bought this book through an Audible.com membership.
*Ama­zon links point to an affil­i­ate account, the money is usually spent on books
--- Please like and follow ManOfLaBook.com ---
Summary
Reviewer
Review Date
Reviewed Item
The Sandman by Neil Gaiman
Author Rating





Product Name
The Sandman by Neil Gaiman