On this day in 1712 Genevan philoso­pher, com­poser and writer Jean-Jaques Rousseau (28 June, 1712 – 2 July, 1778) was born. Rousseau's polit­i­cal phi­los­o­phy influ­enced the French Rev­o­lu­tion and mod­ern pol­i­tics.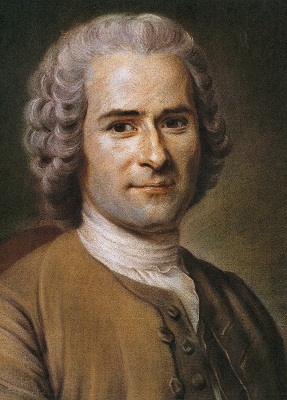 Even though Geneva is now in Switzer­land, at the time Rousseau was born it was a city-state. Rousseau usu­ally signed his books "Jean Jacques Rousseau, Cit­i­zen of Geneva".
At the age of 10, Rousseau's father quar­reled with a wealth landowner and moved. Since then Rousseau saw lit­tle of him.
At the age of 13 Rousseau appren­ticed to a notary, then to an engraver who beat him. At 15 Rousseau took shel­ter in the city of Savoy with a Roman Catholic priest. There Rousseau met 29 year old Françoise-Louise de Warens who con­verted him to Catholicism.
As a teenager, Rousseau sup­ported him­self as a ser­vant, tutor and sec­re­tary in Italy and France while liv­ing on and off with de Warens.
When he was 20, the reli­gious and pious Madame de Warens took Rousseau as her lover. Rousseau con­sid­ered her the love of his life.
While work­ing as a sec­re­tary to the French ambas­sador to Venice, Rousseau dis­cov­ered Ital­ian music and opera and became a life­long fan.
Rousseau became the lover of, a seam­stress. The cou­ple had a son which Rousseau aban­doned, first say­ing he wasn't rich enough, but later con­fess­ing that he was scared because he didn't want his son to be entrusted "to a fam­ily ill brought up".
Rousseau's aban­don­ment came back to haunt him when he was suc­cess­ful as a the­o­rist of child rearing.
It is said that Rousseau's encour­age­ment for women to breast feed their chil­dren saved thou­sands of lives.
Six­teen years after his death, Rousseau was declared a national her in France and interred in the Pan­theon in Paris.
Zohar — Man of la Book
Enjoy this post? Why don't you sign up for the RSS feed