About:
Zorro by Isabelle Allende is a novel which retells the story of the legendary hero. Ms. Allende is one of the most prominent authors in the world and this book is very different from the ones she is known for.
400 pages
Publisher: Harper
Language: English
ISBN-10: 0060778970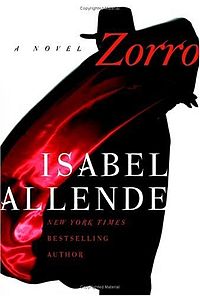 My rating for Zorro – 4
Buy this book from Amazon.com.
Thoughts:
Zorro by Isabelle Allende is an enjoyable and refreshing book, and easy read for a long weekend or a hot summer. The story is clever, Allende re-creates a legend (hence the title)which is always hard to do, especially for a popular character as Zorro, just for taking on this feat she deserved high marks.
The characters in the novel are explored carefully and in depth with a mix of characters from several nationalities. The novel is full of action and adventure but I found the first part of the novel (about 100 pages or so) to be the weakest, but the rest is very good.
On the downside, the book has too much "and then…" this or that happened. I was also hoping to get more about the history of California, since Ms. Allende said she thoroughly researched it and wanted to incorporate her findings in the story. However the research didn't come through the story and very little in the background.
*suggestion: When reading the book, read it in a Spanish accent as if Selma Hayek is narrating.
Synopsis:
Don Diego de la Vega is a child of two worlds, a Spanish aristocrat and a Shoshone warrior woman. As a young man, Diego cannot sit still while watching the injustices around him in later eighteenth Century California. As a gifted athlete and swordsman Diego takes on the alter-ego of Zorro to right the wrongs he sees.
Buy this book from Amazon.com.
Zohar — Man of la Book
Dis­claimer: I bought this book.
*Ama­zon links point to an affil­i­ate account
--- Please like and follow ManOfLaBook.com ---