About:
War and Peace by Leo Tolstoy is a fictional book first published in 1869. The work is regarded as one of the most important works of world literature. The copy I read was translated by Louise and Aylmer Maude.
1350 pages
Publisher: Oxford University Press, USA; New edition
ISBN: 0199232768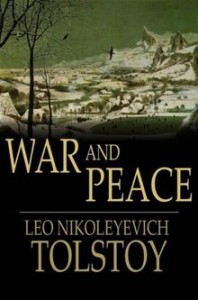 Thoughts:
War and Peace has been mainly dealing with the Rostovs, however here Tolstoy takes a little break and help the reader catch up with the rest of the characters. I don't know what to think of this strategy, the story with the Rostovs seemed interesting and I'm not sure why Tolstoy picked this specific point to stop and change course. Maybe it's the end of the Rostov story, end of a part or simply a change of pace.
I really don't know until I read the rest of this book and view it all under the same umbrella.
Again, Tolstoy shows his mastery of comedy with the side story of Boris wooing Julie. It is a very funny part, possibly in the whole book, but it ends on a tragic note. Tolstoy took me from one spectrum of enjoying a good, lighthearted yarn, almost to tears in the span of a few pages.
The character of Boris grows in this part of the story, his conflict between his heart and mind is gut wrenching. The dilemma is even more difficult because Boris is well aware of what he is doing and is constantly on the fence on whether or not he will live to regret his actions.
As usual in this book, Tolstoy writes with contempt about the upper class and their pastimes. The opera, a glittering social occasion, becomes a mundane, idiotic and meaningless show. Of course, according to Tolstoy, it is nothing but an occasion for the upper class to mix and mingle.
Synopsis:
Pierre is getting depressed more and more with the challenges life throws at him especially when he realizes that Freemasonry is not giving him a new meaning. He realizes that he doesn't like the person he is becoming and tries to tell himself that this is not the case, he is not becoming "that" person. However, the questions still torture Pierre.
At this point the story moves the Old Prince and the Bolkonskys who have moved to Moscow. The Old Prince is becoming senile and even more cruel to his daughter, Maria. In fact humiliating Bolkonsky's daughter has become a habit with the Old Prince. During dinner which the Old Prince gives to a few select guests Boris shows up. Boris has seen Count Rostopchin decline dinner with the commander in chief of Moscow to be in the Old Prince's affair and realizes how important it is. Boris also realizes that he has to choose between Julie Karagin and Princess Maria for his wife.
After dinner Pierre and Maria are sitting together. Pierre is in an unusually happy mood but Maria starts crying. When Pierre consuls her he finds out that the Old Prince is making her life a living hell.
Boris has decided on Julie Karagin and the part where he tries to win her heart is an extremely funny part. However, the part ends on a sad note when the reader realizes that Boris doesn't really love Julie, or doesn't lover her enough to marry her, unlike his feelings for Natasha.
The Count Rostov, Natasha and Sonya stay with Maria Dmitrievna because their house in Moscow has yet to be heated. Contrary to the Rostovs, Maria Dmitrievna, who threw the name-day party for Maria, is vigorous and likes to show her plain manners. However, she favors Natasha over all others and suggest that she visits her future in-laws and try to get on the Old Prince's good side.
Count Rostov takes Natasha to the Bolkonskys but is too afraid to meet the Old Prince, makes some lame excuse and leaves his daughter with Maria. This is the first time the two ladies meet one another and they do not get along. The Old Prince, charming as always, refuses to meet Natasha and Maria has become hostile to her even though she doesn't realize it. Natasha, who senses the way Maria feels about her, takes offence and doesn't understand why – after all, everyone loves her.
Finally, old Prince Bolkonsky comes down wearing his nightgown and a nightcap playing a nincompoop insisting that he did not know Natasha was in his household. He lives soon afterwards leaving the humiliated Natasha and the mortified Maria to deal with the embarrassment.
Later on, the Rostovs go to the opera, a glamorous occasion which the ladies use to show off by wearing low cut dresses. Hélène, who sits in a box next to the Rostovs has her cleavage promonantily displayed for all to glare at. The women on the other hand, notice Dolohov and Hélène's brother Anatole, who is smitten by Natasha. Anatole thinks the young girl will be a delightful change from the women he usually sees and Hélène thinks it will be amusing to corrupt such an innocent creature.
She invites Natasha to her box and the siblings start the corruption process.
Natasha on her part is flattered by all the attention but after she gets back home wonders if she had done something wrong or betrayed Andrei somehow. However, Anatole continues with his plan and Natasha finds herself falling in love with him. When receiving a conciliatory letter from Maria, Natasha replies, breaking off her engagement to Andrei.
Natasha and Anatole get eloped – only that the bride doesn't know that the groom is already married. The groom and Dolohov go to great length with the charades, but at Maria Dmitrievna's house they know they have been discovered and escape. Sonya has learnt of the elopement and, determined to defend the Rostovs' honor has saved Natasha.
Fearing of a duel, Maria Dmitrievna asks Pierre to help Anatole out of Moscow, but Pierre, Natasha's childhood friend, is in love with the girl. When Maria Dmitrievna tells Pierre what happens he is extremely mad but thinks that all women are like his wife. However, seeing Natasha's suffering he sympathizes with her.
Later, Natasha tried to commit suicide through poison but does not take the full dose.
Pierre returns home only to find Anatole there during a soirée. Pierre is extremely mad, actually Hélène has only seen him that mad once, after his duel with Dolohov, and does not dare confront him when he marches Anatole out of the house. Anatole refuses to cooperate, at first, but after being shaken by the throat he hands over the letters he has received from Natasha and agrees to leave Moscow, for good measure. It is with deep sadness that Pierre tells Anatole he should amuse himself with women like Hélène, his wife.
When Pierre comes down, Anatole asked him to retract what he has said. Pierre does but shows his disgust at the family he has married into.
Pierre visits with Andrei, who has returned and is excited about politics, actually Andrei would rather talk about almost anything then the Battle of Austerlitz. Andrei's father & Maria is pleased that the engagement has fallen through, however privately Andrei admits he is emotionally wounded. The dream of being happy with Natasha has been broken.
When being told about Natasha's illness he says he's sorry, but smiles.
When being told about Anatole's marriage he laughs in a cruel manner – like his father.
Andrei still wants to know where Anatole is, Pierre doesn't tell him knowing he will be helping him kill Anatole. However, Pierre suggests that Andrei should forgive Natasha. Andrei vehemently disagrees, he still cannot forgive him for preferring Anatole over him.
Pierre visits the recovering Natasha, she is a mental mass after her suicide attempt. Pierre feels badly for her and suddenly tells her that if he was someone else (rich, smart and handsome) he would propose that instant.
Zohar – Man of la Book
--- Please like and follow ManOfLaBook.com ---