About:
War and Peace by Leo Tolstoy is a fictional book first published in 1869. The work is regarded as one of the most important works of world literature.  The copy I read was translated by Louise and Aylmer Maude.
1350 pages
Publisher: Oxford University Press, USA; New edition
ISBN: 0199232768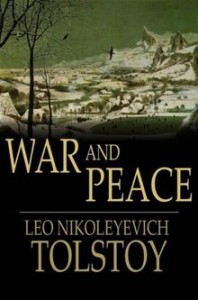 Great price on this book in paper or elec­tronic for­mat
through the Man of la Book Affil­i­ate Account
Thoughts:
I started reading War and Peace by Leo Tolstoy in small increments. To be honest, this first part was a bit too slow and operatic for my taste. However, I understand and appreciate the need for character introduction especially in a complex story such as this.
The complex relationship between war and peace is being established almost immediately. Even during peace time, at a fancy soirée the hawks are having their say. The hostess, Anna Palvona, runs the party like a military commander, knowing when to attack and even more importantly, when to withdraw. Tolstoy also sneaks in a few stabs at Russian aristocracy and their hierarchy which resembles that of the military.
True to form, Tolstoy doesn't hold back his thoughts about aristocrats. Marya Dmitrievna describes a little girl named Natasha as a Cossack – and means it as a compliment. The story infers that those aristocrats are always on the attack and, like every other human, are constantly fighting for survival. I don't know if Tolstoy meant for the soirée to be funny, but I thought it was hilarious – a social satire I did not expect. The conversations are only skin deep, adhering to social norms and politeness, in other words – false and insincere.
As my beloved wife (may she live a long life) could tell you – I'm a sarcastic sonofabitch. What I never realized was that Tolstoy was one as well. Right off the bat he raises the issue of patriotism and the identity of an individual with a nation. The irony of Russia and France going to battle while the French speaking Russian aristocrats are at war with the common non-French speaking population drifts off the page.
The most poignant part of the first book, for me, was when Pierre is called to the bedside of his dying father. As someone who stood by his father's deathbed for more than a week I can recollect the sadness of seeing this one strong, proud man, lying helpless lacking the power of movement.
There is an exhausting cast, some I liked, some I didn't even remember but I'm looking forward to part II.
Synopsis:
The work is divided into four parts (fifteen sections) and two epilogues. Even though the book has received critical acclaim for more than a century, many avid readers avoid it due to its length.
Part I – Section I: Anna Pavlovna's in Petersburg is throwing a party for Russian high society. It seems everyone at the party except Pierre knows the accepted social code. Everyone talks in roundabout ways except Pierre who has to be rescued by Andrei. Andrei plays by the rules even though he dislikes them. Lise is Andrei's wife and she loves society rules. Lise is charming, pretty and happy, which makes Andrei happy at home – not at parties. Andrei feels is if he wasting his life.
Meanwhile, in the sincere part of the soirée Prince Vasily Kuragin  tries to arrange marriage beween Anatole, his son and Maria, Andrei's sister. All the while people are trying to gain favor for the their children, especially if they are going to the war.
Later on Andrei confesses to Pierre and Lise about his unhappiness. Lise is shocked and doesn't understand why her husband wants to get away from her.
Part I – Section II: In Moscow the amiable Countess Rostov, old friend of Anna goes to visit the sick Prince Bezukhov. Bezukhov is Pierre's father but the Countess goes to visit him hoping he will leave something to Boris, her son. Boris though is unhappy with his social position. He considers himself worthless, someone who hangs on to others with all the social skills needing to do so. He resents his mother for taking him to see Bezukhov.
However, Boris gets the temporary upper hand when, upon meeting Pierre, he states that he did not come for money.
Count Rostov is an old aristocrat who likes good food and good conversation but is impractical and wastes the family's money. The Countess is fixated on marrying her son Nikolai to a rich woman. But Nikolai is attached to the orphaned Sonya regardless of his mother's matchmaking attempts. Luckily for Nikolai, a war is on the horizon and he is going, out of a sense of patriotism but also to escape from home.
The charming Natasha, a 13 year old girl, is one that everyone likes. We meet her in this section in which it seems she puts Boris under her spell.
During dinner Pierre is notified that his father is dying. He is in shock to see his father lacking the power of movement and totally disabled. Vasily, also witnessing the death, is unexpectedly moved especially since he has been trying to cheat Pierre out of his inheritance.
Pierre, the new Count Bezukhov, is now rich.
Part I – Section III: Prince Bolkonsky doesn't like society, is smart and curious. Bolkonsky is an inspiring character which is feared, yet respected. Bolkonsky teaches his girl algebra and geometry even though she doesn't understand them and does not suffer fools.
Maria and Julia Karagin exchange letters in which Julia is being insincere as she would be at a social affair. However, Maria's replies are more sincere. The ladies disagree about Pierre, Julia likes him and thinks highly of him.
Andrei and Lise arrive and almost immediately Lise starts gossiping with Maria. Andrei stays silent, he doesn't like to talk or hear about society, however Lise has nothing else to talk about and to her surprise, the old prince Bolkonsky engages in her conversation. Once Bolkonsky sees that Lise is not his intellectual equal he ignores her in a cruel manner which befits the absolute power he holds over his domain.
Creating a social faux-pas, Bolkonsky invites an architect for dinner – a great honor.  It is clear that Bolkonsky values intelligence over pedigree. That being said, the architect certainly feels out of place.
Andrei leaves his father's house (Prince Bolkonsky) and asks for a doctor to be sent to Moscow for his child's birth. While being crushed by family expectations, Andrei is a proud Bolkonsky and wants his son, if it is a son, to be brought up as a proud Bolkonsky as well. Filled with emotion, old Bolkonsky reminds Andrei to act honorably and kicks him out.
Great price on this book in paper or elec­tronic for­mat
through the Man of la Book Affil­i­ate Account
Zohar – Man of la Book
Great price on this book in paper or elec­tronic for­mat
through the Man of la Book Affil­i­ate Account
--- Please like and follow ManOfLaBook.com ---