I bought this book.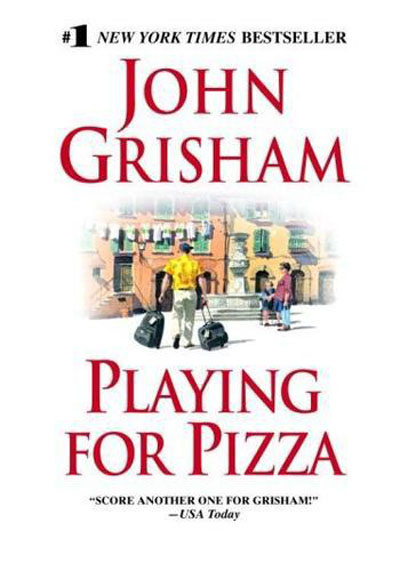 My rating for Playing For Pizza –3
About:
"Playing for Pizza" by John Grisham is a fictional book mostly set in Italy. This fish-out-of-water story is perfect for the reader/sport lover and could be read in one sitting. Those fast enough will probablly be able to read most of it during today's Superbowl half-time show.
Get a discount on "Playing for Pizza" through the ManOfLaBook affiliate account on:
Amazon |Book Depository US | Book Depository UK
Thoughts:
"Playing for Pizza" by John Grisham is a charming short novel which enthralls the reader about the culinary, cultural and architectural marvels of Italy through the fall and rise of a loser NFL quarterback. Rick Dockery cannot get any NFL team to touch him with a ten foot pole after blowing a 17 point lead in a championship game. His manager finds him a starting position in Italy with the Parma Panthers.
Along his journey Mr. Dockery discovers the passion he lost to football and loses his egotistical ways. Regardless of the sports theme, this book is a gastronomic delight as the fast food fed Quarterback discovers the culinary delights of Italy.
The Italian Tourism Board should send this book to everyone requesting information, along with their standard brochures. The book simply makes you want to hop on a plane and go.
I found this book charming. The pace is good, the story flows and the characters are likable. This book is not a deep, serious, philosophical, preachy novel or legal novel, but it is cute, enjoyable and a wonderful read for a long airplane / train / car journey, the beach, just on a lazy weekend or as mentioned before, during the Super Bowl.
Synopsis:
Rick Dockery is a third string quarterback of the Cleveland Browns and a player journalists love to hate as well as fans. Rick threw three interceptions minutes before the AFC championship game ended.
The Browns' fans don't care much for Rick either.
Rick finds refuge in the Italian National Football League as the new quarterback of the Parma Panthers. While the players learn to cope with Rick's big ego, Rick learns to appreciate the splendors of Italian cuisine and culture.
Get a discount on "Playing for Pizza" through the ManOfLaBook affiliate account on:
Amazon |Book Depository US | Book Depository UK
Zohar – Man of La Book
Related articles
This post is in the 63rd

Published at
Mysteries In Paradise
BOOK BLOGGERS – Have you read "Playing for Pizza"? If so link up your review below

--- Please like and follow ManOfLaBook.com ---