J.R.R. Tolkien (3 January 1892 – 2 September 1973) was an English writer, poet, philologist, and university professor. He also wrote some fantasy books as well.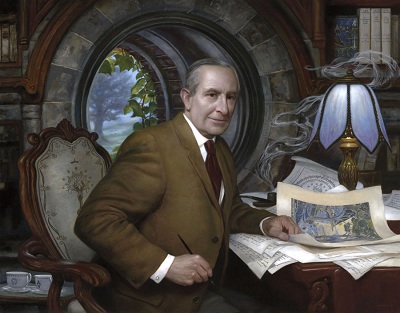 J.R.R. Tolkien by Donato Giancola
Tolkien's initials stand for John Ronald Reuel
Tolkien learned to read by the age of four, he didn't like adventure stories (like Treasure Island), but loved fantasy.
Tolkien was born in South Africa and is the only person to appear on both a 2002 BBC list of the 100 Greatest Britons and a similar 2004 list of the 100 Greatest South Africans
Tolkien is an anglicisation of the German name tollkühn, meaning "foolhardy"
CS Lewis was a friend of Tolkien's who nominated him for the 1961 Nobel Literature Prize. A judge rejected the entry because Tolkien's style " "has not in any way measured up to storytelling of the highest quality".
Tolkien was commissioned as a Second Lieutenant in the Lancashire Fusiliers during World War I, in a move which shocked many of  his relatives, he entered a program to finish his degree before rushing into war. The author saw some combat but came down with trench fever which invalided him during much of the war, otherwise he probably would have been killed much like many of his friends.
Tolkien's 1936 lecture "Beowulf: The Monsters and the Critics" is regarded as a formative work in modern Beowulf studies to this day.
During World War II the British government asked Tolkien to work as a codebreaker, he took a course but never served as one.
In 1938 The Hobbit was being prepared to be published in Nazi Germany. Before hand Rütten & Loening Verlag, the publishing house, asked him if he was Aryan. The outraged Tolkien replied: "But if I am to understand that you are enquiring whether I am of Jewish origin, I can only reply that I regret that I appear to have no ancestors of that gifted people".
The Times ranked him sixth on a 2008 list of "The 50 greatest British writers since 1945" and Forbes ranked him the 5th top-earning "dead celebrity" in 2009.
Zohar – Man of la Book
--- Please like and follow ManOfLaBook.com ---