A young woman finds out that life has more to offer her after the loss of her parents. After losing her parents, Raylyn moves to the mountains only to discover that she isn't what she appears to be. Not believing in fairly tales of vampires, werewolves, and pixies, Raylyn gets a surprise visit from an unlikely visitor that winds up turning her world inside out. It's this visitor who sets the story in motion by explaining who Raylyn really was and that the world of vampires, werewolves, and pixies is real. As is the evil that has set out to find her.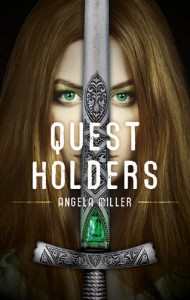 Buy this book in paper or electronic format*
'Where are you from, or do all you pixies have Irish accents?'
'No, I'm from Ireland. I was sent here a hundred years ago by the queen of Bearen on a quest.'
'What's the quest?'
'To find the one they call the Pathfinder. She is supposed to be the queen's great-granddaughter. No one knows where or who she is.'
'So, what happens when you find her?'
This fun book written by Angela Miller is an easy to read novel that delves into the fantasy world of today's society. Fans of the genre of all ages will find this book to be enticing with real world characters that have been well developed. Each has a personality that helps bring the book to life with a well written storyline. Although it's not as dark as other gothic themed vampire books, Quest Holders still remains true to the genre.
The story behind Quest Holders develops quickly and doesn't waste time getting to the point. Although it is a short read, just under 160 pages, it has the ability to keep the reader engaged wanting to continue page after page. As a beginning author, Angela Miller does a fine job of creating a fantasy world that can entertain as well as enthrall the reader. While the story line could have been lengthened in areas, the book itself is still a fun read and could make anyone anxious for a sequel.
Buy this book in paper or electronic format*
Author Bio:
Jason Miner plays a vital role for www.blogcarnival.com. He is an expert in writing topics of different categories. He is helping the carnival team to grow & working on making this an even better place for bloggers.
*Ama­zon links point to an affil­i­ate account
--- Please like and follow ManOfLaBook.com ---