About:
"Pandora's Grave" by Stephen England is a fictional book set mostly in the US and Middle East. The novel is the first of a series and I, for one, am looking forward to see what's next.
Mr. England was kind enough to give three (3) eCopies for a giveaway. This is an international contest.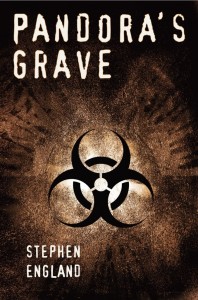 My rating for Pandora's Grave – 5
Buy & Save on "Pandora's Grave" through the ManOfLa­Book affil­i­ate account on:
Kin­dle |Smashwords
Thoughts:
"Pandora's Grave" by Stephen England (website) is an exciting thrill ride which starts fast and continues until the last page. This book is the kind of spy thrillers we rarely see anymore, maybe because the Cold War has supplied so many great stories and its end demised them.
The book reminded me of the TV show "24", it is devised into small sections which tell the reader what happens in different places at the same time. The story is rich, thrilling with plenty of action in the tradition of the good ol' Cold War thrillers but with twists.
The main character, Harry Nichols, is well written as well as the rest of the cast. I was actually surprised to find how well the author balanced Nichols' moral dilemmas as a Christian with his job, which, let's face it, is not for boy scouts.
I love "gray" books, those that the distinction between the good guys and bad guys is very thin, if any. Sometime there are no good guys or bad guys per say, just everyone working for their best interest, willing to screw everyone over to get what they want which, to be fair, is usually to live another day. Master storyteller Ian Fleming was known to have said that he distinctly wrote his main protagonist, James Bond, to be just as bad as the villains only working for the government.
So tell me, do you like "gray" books?
Synopsis:
Members of the CIA's National Clandestive Service sent to rescue a group of archaeologists from Iraq they come face to face with several surprises. Someone has beat them to the punch, the archaeologists have stumbled on something they shouldn't have and that there is a spy in their midst.
The head of the Service's Alpha Team, Harry Nichols, tries to find out who the traitor is as well as save the world from certain calamity. Not only fighting enemies from without and within, but red tape, bureaucracy and politicians.
Buy & Save on "Pandora's Grave" through the ManOfLa­Book affil­i­ate account on:
Kin­dle |Smashwords
Congratulations:
larrygraysells@
alexsharrock@
swilltastic@
Zohar – Man of la Book
Related articles
BOOK BLOGGERS – Have you read "Pandora's Grave"? If so link up your review below:
--- Please like and follow ManOfLaBook.com ---