Richard Harding Davis (18 April, 1864 – 11 April, 1916) was a famous journalist and writer who is known as being the first American war correspondent covering the Spanish-American War.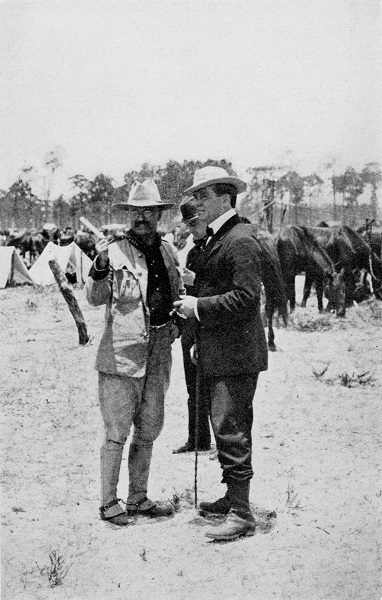 Mr. Davis was born in Philadelphia, PA to a mother who was a prominent writer (Rebecca Harding Davis) and a father who was a journalist and editor (Lemuel Clarke Davis).
While attending Lehigh University, Davis established the Lehigh Football team. However, Davis was asked to leave the university because he was favoring his social life over his studies.
Davis first gained attention as a journalist tackling such issues as execution, suicide and abortion.
Davis is mentioned in Sinclair Lewis's book Dodsworth as the example of an exciting, adventure-seeking legitimate hero.
Davis was a good friend of Teddy Roosevelt, and he helped create the reputation of the Rough Riders while reporting on the Spanish-American War.
Writing about his observations of the shelling of Matanzas, Cuba from an American warship during the Spanish-American war, Davis got all reports banned from American naval vassals for the rest of the ar.
Davis was an honorary member of the Rough Riders.
Davis' novel Soldiers of Fortune was turned into a play and two movies.
During World War I, Davis was arrested by the Germans who thought he was a spy.
Davis' second wife, Bessie McCoy was a Vaudeville performer.
Zohar – Man of la Book
--- Please like and follow ManOfLaBook.com ---