Today at the age of 78, in the year 1882, poet Ralph Waldo Emerson (May 25, 1803 – April 27, 1882) breathed his last breath. While some remember Emerson as a poet, he was also a popular essayist and philosopher.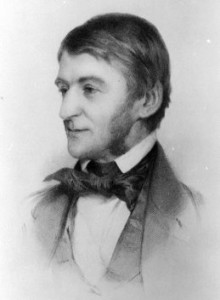 1 ) Ralph Waldo Emerson was a leader in the Transcendentalism movement in America.
2 ) At the age of 14, Emerson was the youngest student in his class at Harvard. He graduated from Harvard Divinity School as a Unitarian minister.
3 ) Emerson left the Unitarian church in 1832 due to philosophical differences.
4 ) Ahead of his time, Emerson was both a supporter of the suffrage and abolitionists movements.
5 ) Emerson's nickname among his friends was "The Sage of Concord".
6 ) In 1836 Emerson published his essay title Nature anonymously. The topic was transcendentalism and was considered controversial hence the essay was published anonymously.
7 ) Some of Emerson's friends included Nathaniel Hawthorne, William Wordsworth, and Henry David Thoreau.
8 ) Most of Emerson's important essays were first written as lectures and then revised for print.
9 ) Emerson was disappointed that President Abraham Lincoln cared more about preserving the union than freeing the slaves. His views about the President soften after a meeting on 1 February 1862 at the White House and even spoke at a memorial service held for Lincoln in Concord.
10) Towards the end of his life, Emerson suffered from memory loss. Once he even forgot the name of the person who was buried during a funeral. That person was dear friend Henry Wadsworth Longfellow.
Zohar – Man of la Book.
Related articles
--- Please like and follow ManOfLaBook.com ---