Henrik Ibsen (20 March, 1828 – 23 May, 1906) was a Norwegian poet and playwright.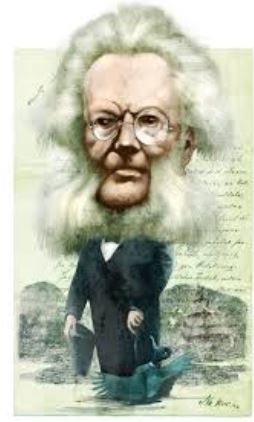 Mr. Ibsen was born to a rich merchant family in the city of Skien.
He was the eldest of five children.
When Henrik Ibsen was eight years old, his father lost his fortune and became an alcoholic. This event traumatized the author for life.
Mr. Ibsen had to leave school at age 15 and worked as a pharmacist apprentice.
When he was 22, Henrik Ibsen tried to gain admission into the University of

Kristiania

, however he couldn't pass the entrance exams. He then concentrated on his writing and published his first play (Catiline or Catilina) soon after.
Mr. Ibsen is known as the father of Modern Theater.
He is considered one of the most influential dramatists and poets of the 19th century, second only to William Shakespeare.
Disappointed from life in Norway, Mr. Ibsen went on a self-imposed exile to Italy He didn't return to Norway for 27 years.
When he returned to Norway, Mr. Ibsen was considered a literary hero, albeit controversial.
The 100th anniversary of Ibsen's death in 2006 was commemorated with an "Ibsen year" in Norway and other countries.
Zohar – Man of la Book
--- Please like and follow ManOfLaBook.com ---