Sir Benjamin Disraeli was born today, 21 December 1804 (d: 19 April, 1881), he was a man of many interests but today he is known most as a statesman but he was a prolific author as well.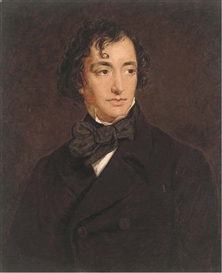 1 )      Disraeli's nickname was "Dizzy".
2 )      In the 1820s Benjamin dropped the apostrophe from his last name (D'Israeli).
3 )      Disraeli is considered to be the pioneer of the political novel
4 )      His title was 1st Earl of Beaconsfield.
5 )      Although he was born Jewish, Disraeli was baptized at the age of twelve. Despite Disraeli being an observant Anglican. This was due to his father's dispute with their synagogue. The elder D'Israeli would remain against organized religion for the rest of his life.
6 )      Disraeli's his career was marked with criticism tainted with anti-Semitism including cartoons, nicknames ("Shylock", "abominable Jew") as well as being portrayed in an act of ritually murdering the infant Britannia.
7 )      Disraeli's father, Isaac, was a historian and literary critic.
8 )      Disraeli faced financial disaster while gambling in the stock market. He and publisher John Murray attempted to publish The Representative, a newspaper to promote South American mines and those who support them. Biographers agree that Disraeli's first novel, Vivian Grey (1826) is a re-telling of the affairs of The Representatives. The newspaper failed (it was "atrociously edited" according to Lord Blake, Disraeli's biographer).
9 )      Even though Vivian Grey was popular, it was received negative and critical reviews once Disraeli's authorship was discovered.
10)   John Murray believed that Disraeli made fun of him and abused his confidence in the novel. Disraeli consistently denied Murray's accusations however most of Disraeli's biographers take Murray's side.
Zohar – Man of la Book
--- Please like and follow ManOfLaBook.com ---