About:
Thunderball by Ian Fleming is the ninth Bond novel, is the first of the "Blofeld Trilogy" (continued with On Her Majesty's Secret Service and concluded with You Only Live Twice intercepted by The Spy Who Loved me).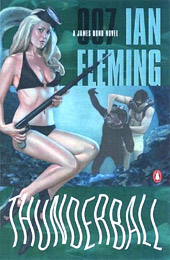 My rating for Thunderball – 5
Buy this Book in paper or elec­tronic copy*
Books by Ian Fleming*
Part of the League of Extra­or­di­nary Gen­tle — Men of la — Book Chal­lenge (Vol. 1)


Thoughts:
I found Thunderball by Ian Fleming (website) to be very enjoyable and well written. The novel is part mystery, part thriller, funny, charming and interesting. If you are familiar with the movie, you'd find that it was, surprisingly, a faithful translation of the book into a different medium. While not all of the book shows up on screen, the vast majority of it does.
A favorite part of mine was Bond finding himself stuck at the Shrublands clinic, trying to get healthy while dining on broth and dreaming of fine wine. The book is also the first to introduce the reader to SPECTRE and its leader Ernst Stavros Blofeld who will eventually become the model for fictional evildoers.
The book is a fast thrill ride which never lets off, even by today's standards in a more modern world. I can only imagine what it must have been like in the 60s when it first came out. The Bond in this book is one which follows his hunches and is never actually sure if he's right, Fleming writes with a sense of urgency which comes off the pages and translates into the readers head.
Synopsis:
Thunderball by Ian Fleming begins with M, MI6's head, sending James Bond, our hero, to a two week vacation in a health clinic due to poor health caused by lots of drinking and smoking sixty cigarettes a day.
Of course, nothing for our hero goes smoothly and his vacation is smudged by an assassination attempt by one of the other guests who just happen to be a member of the Red Lightning Tong criminal organization from Macau.
Bond feels better when returning to London, following a better diet and smoking less, only to find out that SPECTRE, headed by Ernst Stavro Blofeld, hired a Royal Air Force pilot named Petacchi to hijack some bombers with two nuclear bombs on board and fly them to the Bahamas where Emilio Largo (Blofeld's second in command) is waiting on his yacht.
Petacci is killed and the Americans and British launch operation Thunderball to recover the missing nukes assigns Bond, on a hunch, to the Bahamas where he meets his old CIA friend Felix Leiter. While in Nassau Bond meets our villains, villainesses and other characters while solving the mystery and saving the world.
Zohar – Man of la Book
Disclaimer: I bought this book
*Ama­zon links point to an affil­i­ate account
BOOK BLOGGERS – Have you read Thunderball? If so link up your review below:
--- Please like and follow ManOfLaBook.com ---