About:
The Madagaskar Plan by Guy Saville is an alternate history novel taking place after World War II. The novel is supposed to be a sequel to The Afrika Reich, which I did not read and felt that it was a good standalone story.
480 pages
Publisher: Henry Holt and Co.
Language: English
ISBN-10: 0805095950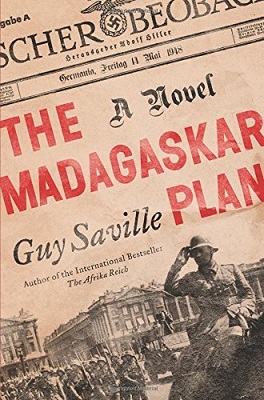 My rating for The Madagaskar Plan– 4
Buy this book in paper or elec­tronic format*
More Books by Guy Saville
More Rec­om­mended World War II books on Man of la BookStore

Thoughts:
The Madagaskar Plan by Guy Saville starts with the premise that at the Battle of Dunkirk the British did not manage to escape and most of their army destroyed. The British, replacing Churchill, made an unholy truce with Germany while Russia was defeated through guerilla attrition warfare The United States has stayed neutral (Pearl Harbor never happened) and Germany is free to get rid of the blacks (Africa) and the Jews (Madagascar).
The narrative is fast and bloody, the story is fascinating and complex with many sub plots to keep track of. The characters, both real and fictional, are well written and dimensional.
I have heard about the Madagascar Plan before, but only in deeply buried footnotes or slight mentions in dense history books. Reading this book brought more light on this plan and the author did a great job imagining an creative "what if" historical scenario.
This was a very interesting book which, based on the author's historical research, and certainly seemed plausible. A good book to get lost with.
Synopsis:
Germany has won World War II and created a Jewish ghetto / slave plantation in Madagascar attempting to rid Europe of Jews.
British soldier Burton Cole who was thought to be dead returned to Madagascar to look for the love of his life, Madeline. Jared Cranley, Madeline's husband, has sent her to Madagascar out o of spite to show her what he, as a senior British official, can do to an immigrant Jewess.
Buy this book in paper or elec­tronic format*
More Books by Guy Saville
More Rec­om­mended World War II books on Man of la BookStore
Zohar — Man of la Book
Dis­claimer: I got this book for free.
*Ama­zon links point to an affil­i­ate account
--- Please like and follow ManOfLaBook.com ---