About:
It Doesn't Take a Hero : The Autobiography of General H. Norman Schwarzkopf is a gripping book, originally published in 1993. Recently we have lost this great man and I decided to revisit the book which I enjoyed tremendously when it was first published.
640 pages
Publisher: Bantam
Language: English
ISBN-10: 0553563386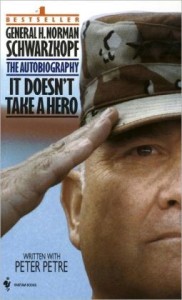 My rat­ing for It Doesn't Take a Hero — 5
Buy this book in paper or in elec­tronic format*
Thoughts:
It Doesn't Take a Hero by  H. Norman Schwarzkopf is, at its heart, an autobiography of a great executive, soldier and gentleman. While I'm usually partial to autobiographies, I truly enjoyed this one which seemed honest and less self serving than many others. General Schwarzkopf admits mistakes, and positions he has taken for political reasons. Those inner reflections make a very interesting read about decision making in the higher ranks of the military.
General Schwarzkopf covers his early childhood in New Jersey as well as, believe it or not, his Swiss boarding-school experience. An interesting segment in young Schwarzkopf's childhood takes place in Iran, where his father worked. The General's time in West Point closes out the formal education before he is sent off to serve in Vietnam.
The start of the buildup of the Gulf War (1990) is where the book takes off to relevancy not only when published, but today also since we are still facing some of those issues, as well as many others. General Schwarzkopf was assigned to Central Command not long before Iraq invaded Kuwait, in this book the General states that he prepared his troops for war in the Middle East since, to his estimation, a war in Europe is unlikely. As Bush 41 made it clear that Iraqi aggression will not go unnoticed, General Schwarzkopf realized that he might be at the center of fight.
I have always had a keen interest in how decisions are made in the upper echelon of government.
What is the thinking behind those decisions?
What variables are being considered and why?
What is the process?
Etc.
The book does not disappoint on this level as well, as the coalition, led by the United States, starts to build up with massive deployments in the sea, land and air the reader gets a look behind the scenes at the political arm twisting and maneuvering. The General's day to day life dealing with Saudi Kings and princes, the Joint Chiefs and politicians are an amazing testament to the legacy he has left behind.
General Schwarzkopf is an intelligent man and it shows, his large personality shines throughout the book and he doesn't let his ego get in the way. The General's sense of duty comes across in a heartwarming way, however his insights and self-examination are what makes this book worth reading.
Buy this book in paper or in elec­tronic format*
Zohar — Man of la Book
Dis­claimer: I got bought book.
*Ama­zon links point to an affil­i­ate account
--- Please like and follow ManOfLaBook.com ---