About:
Black Fridays by Michael Sears is a novel which capitalizes on the author's Wall Street experience providing interesting insights on financials capers. This is a first book by Mr. Sears and seems to be the first of a series.
352 pages
Publisher: Putnam Adult
Language: English
ISBN-10: 0399158669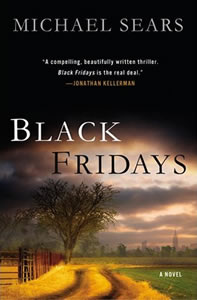 My rating for Black Fridays –

4
Thoughts:
Black Fridays by Michael Sears (website | Facebook) is a novel about financial schemes, murder and greed but mostly about the meaning of fatherhood. While I couldn't begin to understand the complexity of the scam which Jason Stafford, the protagonist, pulled over his Wall Street bosses, I liked the other aspects of this book.
Jason has a son which he is fighting for. After spending a couple of years in jail Jason certainly wasn't up for the "Father of the Year" award, but neither was his white trash ex-wife, her fixation with abusive men and her way of dealing with autism (locking the kid in a room at his grandmother's house so he won't hurt himself).
I enjoyed the financial aspect of the book and the motivation of the father to come back into an industry which deplores him (he got caught and took a few people with him on the way down), but I thought that the touching relationship between father and son gave the book unexpected strength which turned the novel from a run of the mill book into a memorable one.
I also liked the way Jason was drawn; he is by no means a good guy and certainly not a moral character. After all, Jason doesn't hesitate stealing a few hundred thousand dollars here and there and is trying to justify it throughout the book. The protagonist has no remorse, only that he got caught and missed two years with his son.
Black Fridays is an enjoyable thriller, it is fast paced and interesting. Jason might be the only well developed character in the book, but the novel still stands on its own strength. A wonderful debut for Mr. Sears and I'm looking forward to more books about Jason and his son.
 Synopsis:
Jason Stafford has spent the past two years in jail after being caught running a Wall Street scam. Now the unemployable trader is trying to put his life back together.
A Wall Street firm has hired him to investigate some issues which a junior trader might have had before he accidentally died – but Jason might take on more than he can chew and might risk his life in the process. His only motivation to continue is his only son "The Kid" who is autistic and needs a lot of attention which money can help bring about.
Zohar – Man of la Book
Disclaimer: I got this book for free.
BOOK BLOGGERS – Have you read Black Fridays? If so link up your review below:
--- Please like and follow ManOfLaBook.com ---