About:
The Pharmacist of Auschwitz: The Untold Story Patricia Posner tells of the life of Victor Capesius, who almost escaped for his crimes. Ms. Posner is an author of investigative historical nonfiction books.
6 hours and 33 minutes
Publisher: Tantor Audio
Language: English
ASIN: B073QY2PZG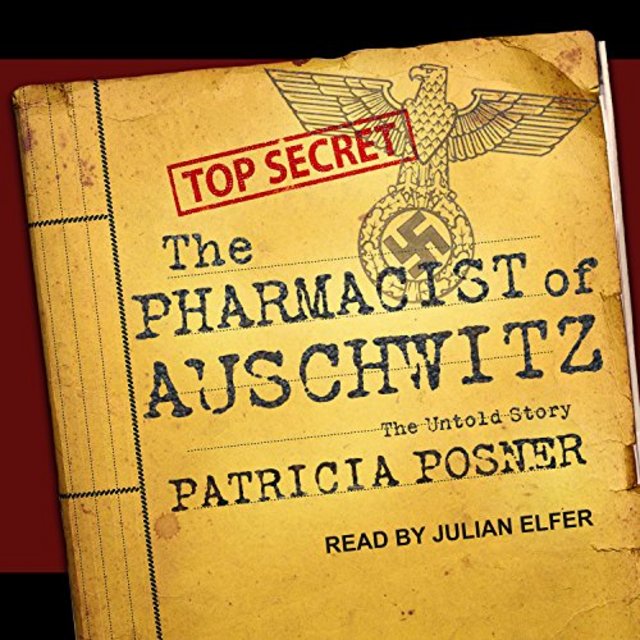 My rat­ing for The Pharmacist of Auschwitz — 5
Buy The Pharmacist of Auschwitz from Amazon.com*
More Books by Patricia Posner*
More Books narrated by Julian Elfer*
Thoughts:
Whenever I read these types of books, I always remember Hannah Arendt's famous quote about the "banality of evil". How small, gray people, bland bureaucrats who are neither perverted nor sadistic perform evil deeds without evil intentions.
This can be true for the coward Victor Capesius as well, witnesses, however, said that he had a perverse enjoyment in joining Dr. Mengele for selection, deciding life and death with a gesture (including people he personally knew). After the war, this small, gray man, almost gotten away with his crimes if it wasn't for two men.
The Pharmacist of Auschwitz: The Untold Story Patricia Posner is an engrossing, well-written book. I was fascinated by two aspects of the book, the role of business in the killing, and Nazi hunters.
Victor Capesius was a Romanian national sales representative for Bayer Pharmaceuticals. As a representative of the company in Auschwitz, he oversaw several medical experiments which Bayer funded. The partnership between the Nazis and big business is a part of the book which I found both fascinating, and maddening at the same time.
He was caught due to the good work of Hermann Langbein and survivor Fritz Bauer. This part took about one-third of the book and is a fascinating window into the times when war criminals were almost given a free pass to live the rest of their lives peacefully, a prevalent attitude at the time.
Julian Elfer did a very good job with the narration. There are a few events also mentioned in Auschwitz: A Doctor's Eyewitness Account by Dr. Miklós Nyiszli, which I highly recommend as well.
Synopsis:
Victor Capesius a Romanian pharma salesman joined the Nazi SS and became chief pharmacist at Auschwitz. Mr. Capesius did his job well, and with gusto.
After the war, Capesius managed to convince the authorities that he did not know a thing about what was going on under his nose, not even what the Zyklon B is used for. He almost got away with it too, living a life of luxury with stolen gold.
Buy The Pharmacist of Auschwitz from Amazon.com*
More Books by Patricia Posner*
More Books narrated by Julian Elfer*
Zohar — Man of la Book
Dis­claimer: I bought this book through an Audible.com membership.
*Ama­zon links point to an affil­i­ate account, the money is usually spent on books
--- Please like and follow ManOfLaBook.com ---
Summary
Reviewer
Review Date
Reviewed Item
The Pharmacist of Auschwitz: The Untold Story Patricia Posner
Author Rating