About:
The Testament of Jessie Lamb by Jane Rogers is an award winning science-fiction book taking place in the near future. This is a book that out of my comfort zone as I usually don't read this genre (I used to), but I'm glad I read and think it's important to read books which you might not otherwise.
The pub­lisher is giv­ing away one copy of this book— use the form at the end of the post to enter.
256 pages
Publisher: Harper Perennial
Language: English
ISBN-10: 0062130803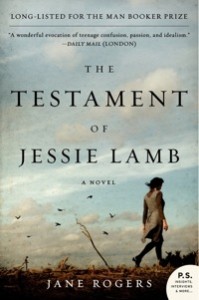 My rating for The Testament of Jessie Lamb – 5
Buy this book in paper or electronic format
Thoughts:
The Testament of Jessie Lamb by Jane Rogers (website | Facebook.)almost reads like a classic dystopian novel and I'm sure it will become one soon enough. I found the story surprising with several gentle twists, every time I thought I knew what was going to happen, I found out I was wrong.
The writing is excellent, but the book is not your fast paced variety. The story is narrated from the point of view of a teenage girl, the chapters begin by reliving the past and end with a journal/diary entry detailing the present. While at first this type of narrative arrangement was strange, it actually worked wonderfully book and its many themes.
Even though the book takes place in the near future, the themes which are dealt within it are contemporary. Legal age, consent, society's willingness to tear each other apart, to sacrifice "the others" for your own morality and our favorite social pastime: forcefully enforce your jaded morals on the rest.
When I was first offered to read this book I hesitated, to be honest I only accepted because it looked interesting, I thought my wife would like it as well and because it was long listed for the Man Booker Prize. I'm not usually much for science-fiction and/or dystopian books. I liked The Hunger Games but have yet to read the rest of the series and loved science-fiction as a kid, but haven't read a sci-fi book in years.
I am always one to preach that people should read out of their comfort zones, yet I rarely follow my own advice. And here, the opportunity presented itself and I took it.
Do you know what I found out?
I was right, not only am I happy I read this book, as it gave me much fodder to think about after I finished it, but I believe that I am a better reader for doing so.
So tell me, what was the last book that you read out of your comfort zone? Did you like it? Why or why not?
Synopsis:
Jessie Lamb is 16 years old, daughter of a British scientist attempting to find a cure for MDS, a nasty virus. MDS was unleashed upon the world by an unknown group; the virus attacks pregnant women and their babies killing the woman before she is able to give birth.
Jessie is flirting with activism, not using a car when unnecessary, joining youth groups and more. But she finds new meaning when scientists discover that women under 16 ½ have great chances of producing a baby, creating a future for human kind at the expense of their own lives.
Buy this book in paper or electronic format
Give­away
Give­away ends: May 30, 2012

US/Canada Ship­ping Addresses Only

No PO Boxes

Win­ners will have 24 hours to write back with their address, oth­er­wise an alter­nate win­ner will be picked
Congratulations: readabookonce@
TLC Book Tour for The Testament of Jessie Lamb:
Tuesday, May 15th: Jenn's Bookshelves
Wednesday, May 16th: JulzReads
Thursday, May 17th: A Soul Unsung
Monday, May 21st: Book Hooked Blog
Tuesday, May 22nd: Brandi Reads
Wednesday,
May 23rd: Man of La Book
Thursday, May 24th: Walking With Nora
Monday, May 28th: The Road to Here
Tuesday, May 29th: Twisting the Lens
Wednesday, May 30th: "That's Swell!"
Thursday, May 31st: A Bookworm's World
Friday, June 1st: Drey's Library
Wednesday, June 6th: Raging Bibliomania
Zohar — Man of la Book
Dis­claimer: I got this book for free from TLC Book Tours
Related articles
Arthur C Clarke award goes to Jane Rogers (guardian.co.uk)
BOOK BLOGGERS – Have you read The Testament of Jessie Lamb? If so link up your review below:
--- Please like and follow ManOfLaBook.com ---