Today is the birthday of one of my favorite authors, Alexandre Dumas (24 July, 1802 – 5 December, 1870). Mr. Dumas, a French author, is well known for his adventurous and imaginative stories.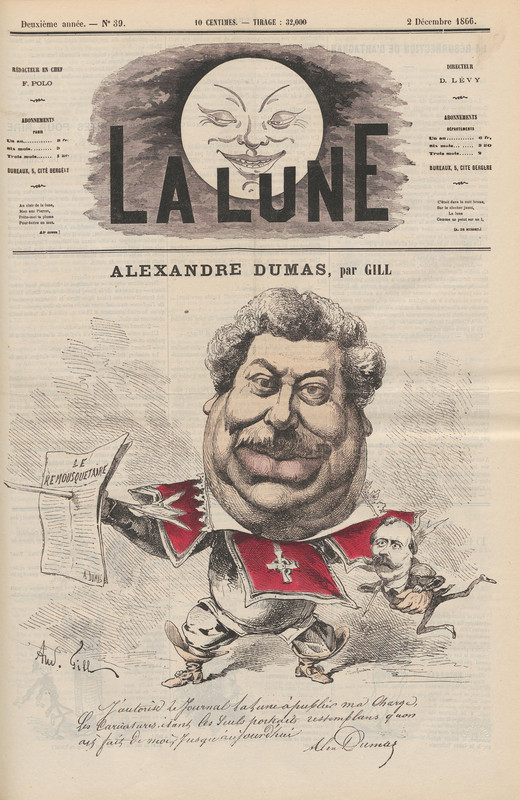 "Gill – Dumas Père" by André Gill –
http://greatcaricatures.com/articles_galleries/gill/galleries/html/1866_1202_dumas.html.
Licensed under Public Domain via Wikimedia Commons.
The author's father, also named Alexandre Dumas, was a bastard child of a French aristocrat and rose to be a general in Napoleon's army at the age of 31 (read my review of his wonderful biography The Black Count).
Duma's father birth name was the Marquis Alexandre Antoine Davy de La Pailleterie. Thomas-Alexandre took the name Dumas when he enlisted in Napoleon's army, where he acquired the nickname "Black Devil."
In France General Alexandre Dumas is called Dumas père to distinguish him from his son, the famous author, known as Dumas
In 1830 Alexandre Dumas worked as a scribe for duc d'Orléans who later became King Louis Philippe.
Dumas was a prolific writer of essays, short stories and novels, as well as plays and travelogues.
The Three Musketeers and The Count of Monte Cristo were both originally published as serials.
With the profits from his books, Dumas built a home in Port Marly, Yvelines, France aptly named Château de Monte Cristo (it is now a museum).
The author was forced to sell his home in 1851 and flee away from his debtors to Belgium and to Russia.
A true author, Dumas published travelogues on Russia during his exile.
Even though he was a very successful author, Dumas died in poverty.
Zohar – Man of la Book
--- Please like and follow ManOfLaBook.com ---