About:
The Three Musketeers by Alexandre Dumas is the author's best known novel. The story was originally serialized between March and July of 1844 in Le Siècle magazine.
704 pages
Publisher: Oxford University Press, USA
Language: English
ISBN-10: 0199538468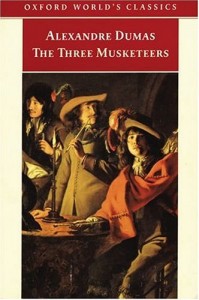 My rating for The Three Musketeers – 5
Buy this book in paper or elec­tronic format*
More Books by Alexandre Dumas
Thoughts:
The Three Musketeers by Alexandre Dumas is a fast paced adventure into French history which has cemented itself as a classic and refuses to let go. I have been a fan of this story for several decades, it is a silly fantasy riddled with intrigue and adventure crossing borders and nationalism.
The story is difficult to read at first, the French names and seemingly high brow storytelling, but soon one can tell why this novel is one of the most popular of all times. Peculiar, memorable and quirky with adventures galore and an air of arrogance could define The Three Musketeers, but there is plenty more.
Dumas peppered this book with historical figures, but not so much historical accuracy (to be generous). As with many other novels, the author took real figures and some real historical events, invented his own conversations and scenarios while giving these bombastic figures grandiose roles on a stage of his own.
What Dumas does that separates him from the crowd?
His figures are so high and mighty, evil, honorable and egotistical that one can do nothing but laugh and enjoy. Dumas realizes that the predicament and situations he puts his heroes in are quite ridiculous, and through the action and adventure – all with a wink and a smile – the reader realizes of course that this quite serious business of bringing back the queen's diamonds is really more suitable for a comedy than a romantic tale of France.
This is an ageless story which was serialized for a newspaper, hence the page turning adventure and fast paced. After reading this book in elementary school (on my own) I had the urge to read it again, this time with the eyes of an adult. The book did not disappoint, and I further understood why it is a classic. Dumas is a master of invention, if he'd live today he'd be making shows like "24", but he's not … and he didn't. Instead he gave us a timeless, serial classic peppered with a good deal of humor, romance and even some swordplay.
Dumas' genius is his ability to tell this irreverent story, with no identifiable central plot, yet make it exciting and personable. Everything that matters to Dumas such as unconditional love and friendship are not front-and-center, but on the margins of humanity and history.
Synopsis:
France, 1625 – a young poor nobleman named d'Artagnan leaves his Gascony home to the bright lights of Paris with intentions of becoming Musketeer of the Guard. On the way d'Artagnan hears a man making jokes about his horse and demands a fight, he loses the fight, breaks his sword and get a letter of introduction to Monsieur de Treville stolen.
In Paris d'Artagnan goes to meet Treville and manages to schedule three consecutive duels with Aramis, Athos and Porthos – the three musketeers. The rest of the story follows our young friend while he duels, falls in love, manages to save the Queen of France and spoil Cardinal Richelieu's plans (In a true fashion of fiction rewriting history – the Cardinal got a bad rap from the popularity of the story – much of it undeserved) all while achieving his dream.
Buy this book in paper or elec­tronic format*
Zohar — Man of la Book
Dis­claimer: I bought this book
*Ama­zon links point to an affil­i­ate account
BOOK BLOGGERS – Have you read The Three Musketeers? If so link up your review below:
--- Please like and follow ManOfLaBook.com ---