About:
Ian Fleming and SOE's Operation Postmaster: The Top Secret Story Behind 007 by Brian Lett recaps Operation Postmaster and the men who made it a success. One of them is James Bond's creator Ian Fleming who got his ideas for his novels while working in British intelligence.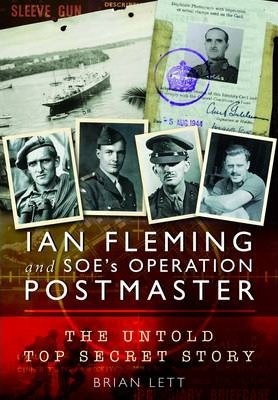 My rat­ing for Ian Fleming and SOE's Operation Postmaster— 4
Buy Ian Fleming and SOE's Operation Postmaster from Amazon.com*
More Books by Brian Lett*
Books by Ian Fleming*
Thoughts:
Operation Postmaster was conducted by British Special Operations Executive (SOE) and the Small Scale Raiding Force (SSRF) in January 1942, when World War II was starting to ramp up. The objective of Postmaster was to board German and Italian ships which were anchored in Fernando Po (Spanish Guinea), and sail them to Lagos.
The SOE and SSRF were on their own during the operation, as British authorities refused to support them since they were breaching Spanish neutrality, even though it was assumed that the Spanish, if they joined the war, would be on the side of the Axis. Not surprisingly, these same authorities had no problems with taking credit for the operation.
The author did not set out to write a thriller, real people have to deal with real problems which take time to be solved. They can't be solved in a 20 second conversation with the right people, or with the point of a gun. While the effort to compare the men of the SOE to James Bond is commendable, even super-secret agents will be broken down by simple bureaucracy.
The story mainly follows a small group of soldiers, the first of the SOE, who were rescued from Dunkirk and follows them through Operation Postmaster. These were not English upper-class men playing games, or tough orphans grown up to hone their broad skills, becoming fine blades, but men of all walks of life. These men banded together with a single mindset to accomplish the task they were given.
Ian Fleming and SOE's Operation Postmaster: The Top Secret Story Behind 007 by Brian Lett goes into the planning, execution, and the personalities which made this operation a success and paved the road for the SOE's continued existence. Sometimes the author goes on a stretch, trying to tie the mission and the men to the Bond books, but it is a fun exercise, especially if you read the books. Alas, we'll never know.
Buy Ian Fleming and SOE's Operation Postmaster from Amazon.com*
More Books by Brian Lett*
Books by Ian Fleming*
Zohar — Man of la Book
Dis­claimer: I got this book for free
*Ama­zon links point to an affil­i­ate account
--- Please like and follow ManOfLaBook.com ---