About:
Wings: A Novel of World War II Flygirls by Karl Friedrich is a historical fiction book about the Women Airforce Service Pilot or WASP. The WASP were part of the US Army, before the Air Force became its own entity.
304 pages
Publisher: McBooks Press
ISBN: 1590135709
The pub­lisher has made avail­able one (1) copy of Wings to be given out– enter at the end of the post.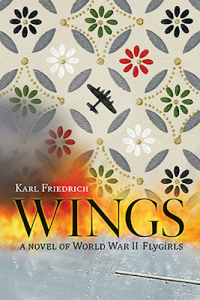 My rating for Wings – 4
Buy & Save on Win­gs through the ManOfLa­Book affil­i­ate account on:
Ama­zon | Kindle | Book Depos­i­tory US | Book Depos­i­tory UK
Thoughts:
Wings: A Novel of World War II Flygirls by Karl Friedrich (website) is a fascinating book centered around strong female characters. It is no secret that I love World War II book and the stories which come out of that period of time never cease to amaze me.
The book is rich in history and does justice to a group of women which, until recently, it seemed that history forgot their magnificent contribution to the war effort. This select group of young woman, 1,074 to be exact, were pioneers, heroes, role models and very much as pilots as their male counterparts.
This novel is readable and fun. The author does a fantastic job make the WASP candidates as determined, intelligent, resourceful and capable individuals who are getting a shot at making something out of themselves regardless of class, social standings or background.
I did find the dialogue a bit clunky and a characterization which played up to certain stereotypes, but that was part of the fun of the book. The plot was over the top entertainment, the protagonist, Sally, seemed to be the one to find herself involved in near fatalities which she only survived due to her tremendous flying skills honed during her barnstorming days.
However, the details of the WASP program and the airplanes are what made the book worth reading for me. I have heard of the WASP program but never really read anything about it. Mr. Friedrich has a marvelous ability to combine technical writing and ease of understanding difficult subject mattes (aeronautics, maneuvering, learning to fly etc.).

WASP Pilot Wings
Courtesy of Lionheart Designs
It was astonishing to me to learn of the way the U.S. military treated women during World War II. I've been in the military and while sometimes resentful of the support personnel who were drinking cake and sipping coffee in town square while I was eating mud on a cold night (that's the way I envisioned them anyway), in hindsight I always appreciated them. Once I worked my way up the ranks (not too high), I learned how valuable they actually were.
Coming from this point of view, it seemed incredible and idiotic that the top brass didn't recognize what the support at home always knew. How valuable they actually are.
So tell me, what was the last good military book you read?
Synopsis:
Sally Ketchum came from a poor family of dirt farmers, her mundane life were changed forever once she met a Tex, a pilot who makes his living barnstorming. However Tex died in an accident and Sally enrolls in the Women Airforce Service Pilot (WASP) program.
At the school, known as Avenger Sally learns to fly planes, large and small, contended with sexism, egoism on part of her commanders and fellow WASP , and high powered Washington lawyers hell bent on shutting the program down.
Buy & Save on Win­gs through the ManOfLa­Book affil­i­ate account on:
Ama­zon | Kindle | Book Depos­i­tory US | Book Depos­i­tory UK
Congratulations: debbie@
TLC Book Tour for Wings: A Novel of World War II Flygirls :
Monday, October 3rd:  A Bookish Libraria
Tuesday, October 4th:  Life in Review
Wednesday, October 5th:  Acting Balanced
Monday, October 10th:  The Life (and lies) of an inanimate flying object – guest post
Tuesday, October 11th:  Diary of an Eccentric
Wednesday, October 12th:  "That's Swell!"
Thursday, October 13th:  Man of La Book
Monday, October 17th:  A Cozy Reader's Corner
Tuesday, October 18th:  Reviews from the Heart
Wednesday, October 19th:  A Bookish Affair
Thursday, October 20th:  Bags, Books & Bon Jovi
Friday, October 21st:  Flight to Success
Monday, October 24th:  Melody & Words
Tuesday, October 25th:  Unabridged Chick
Wednesday, October 26th:  Staircase Wit
Thursday, October 27th:  2 Kids and Tired
Tuesday, November 1st:  Joyfully Retired
Wednesday, November 2nd:  The House of the Seven Tails
Thursday, November 3rd: Life on the Road as a Pilot
Zohar – Man of la Book
Dis­claimer: I got this book for free as part of the TLC Book Tour pro­mo­tion.
Article first published as Book Review: Wings: A Novel of World War II Flygirls by Karl Friedrich on Blogcritics.
Related articles
BOOK BLOGGERS – Have you read "Wings"? If so link up your review below:
This post is in the 82nd


Published at Mel's Mouthful on Mothering.
--- Please like and follow ManOfLaBook.com ---