About:
War and Peace by Leo Tol­stoy is a fic­tional book first pub­lished in 1869. The work is regarded as one of the most impor­tant works of world lit­er­a­ture. The copy I read was trans­lated by Louise and Aylmer Maude.
1350 pages
Pub­lisher: Oxford Uni­ver­sity Press, USA; New edition
ISBN: 0199232768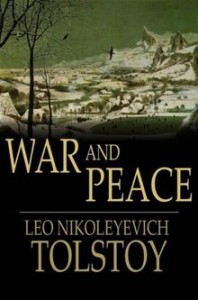 My rating for War & Peace –

5
Thoughts:
It took me a while to read War & Peace by Leo Tolstoy, not only for the obvious reason (1,024 pages) but also because I read it in spurts, between reading other books.
If you didn't read War & Peace you should, not only is it full with studies of the human condition, but also full of wisdom which is still relevant to this day. I felt that I learned a lot from reading this book, not only about history, but also about culture and human intelligence.
It's too bad that if Tolstoy would have lived today, War & Peace wouldn't even have been published. It's not popular, too long and too tiresome – they would say. But this is real literature, with validity and artfulness.
The novel is in all actuality a soap opera which is a bit formulaic even by today's standards. The story of three families which the narrative moves around; characters come and characters go, lovers split up, make up or die and friends fight.
I'd like to say that I'm not recommending War & Peace because it's a famous book, or considered a classic, or because I'm afraid that I'd look like the uncultured, uncouth shcmo which I actually am. No, this is an excellent book which is still relevant despite being written long ago. Tolstoy's existential thinking, philosophical musings and observation of humans falls just short (if at all) from the Bible. The analogies to this day and age could be made with ease and the historical aspect simply raises the book to another level.
One of the benefits of reading this famous book, which everyone talks about but few actually read, is the bragging rights which come with this accomplishment.
Synopsis:
Book 1 Part 1
Book 1 Part 2
Book 1 Part 3
Book 2 Part 1
Book 2 Part 2
Book 2 Part 3
Book 2 Part 4
Book 2 Part 5
Book 3 Part 1
Book 3 Part 2
Book 3 Part 3
Book 4 Part 1
Book 4 Part 2
Book 4 Part 3
Book 4 Part 4Epilogues
Zohar — Man of la Book
Dis­claimer: I got this book for free
*Ama­zon links point to an affil­i­ate account
--- Please like and follow ManOfLaBook.com ---