About:
"Turn Right at Machu Picchu: Rediscovering the Lost City One Step at a Time" by Mark Adams is a non-fiction book in which the author follows the footsteps of Hiram Bingham III.
352 pages
Publisher: Dutton Adult
Language: English
ISBN: 0525952241
My rating for Turn Right at Machu Picchu – 5
Buy Turn Right at Machu Picchu from Amazon.com*
More Books by Mark Adams*
Thoughts:
One hundred years ago today explorer Hiram Bingham III found Machu Picchu and brought his findings to the rest of the world. Mark Adams (website), who worked for adventure magazines, used his contacts to follow Bingham's footsteps in the jungles of Peru.
I love to read about places I've already visited, more often than not I wish I've read the book before I visited. When I saw the title of the book being offered by NetGalley I immediately asked permission to read it.
I visited Machu Picchu in 1992, before there was a cap on visitors and the touristic part of the visit was not as oiled as it is today. We had to find our own guide, hired some mules on the way and hoped we had enough food to last us for several days while we walked the Inca Trail.
At the time I didn't appreciate what I was doing, I was young, in shape and figured that it's a "must do". Several years later it dawned on me what I was privileged to do and privileged to see and experience.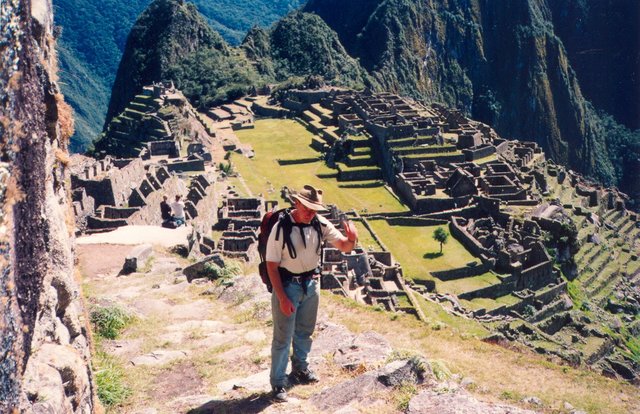 Man of la Picchu
In "Turn Right at Machu Picchu: Rediscovering the Lost City One Step at a Time" Mark Adams takes my little trip a step further, he actually walks in the footsteps of Hiram Bingham III in places where few have ventured.
The book is in part a funny/serious travelogue, part smart history and part investigative report into Bingham's discovery all encompassed in an unbending adventure. Mr. Adams, who was not a serious adventurer at the beginning of the trip, did well by surrounding himself with John Leivers , a professional guide who, for me, was the highlight of this book.
I certainly understood Mr. Adams' annoyance with what he calls "Peruvian Time". It drove me, a person who considers being on time as being late, absolutely nuts. There is a whole another issue which Mr. Adams passed on telling about the loose definition of "the truth" as well as foreigners being "fair game" / walking ATM machine, all of which simply rang up a wrong nerve with me.
Adams' journey parallels the one Bingham describes in his books "Inca Land" and "Lost City of the Incas". Adams writes a very readable narrative of his journey, Inca history, Bingham's adventures as well as a little Peruvian history and culture tidbits.
Being that the first hand research material that is available for the Inca Empire has been chopped and diced by the emperors to glorify themselves, Adams does an excellent job pulling different resources to conjure up the beginnings of the Spanish conquest of the continent.
As I mentioned, I wish I had this book accessible to me in 1992, when I walked the Inca trail to Machu Picchu. The trail is filled with Inca ruins which I made a point to visit and when I reached Machu Picchu I absolutely knew that was the end. However I completely missed the relationship of the trail with the famous site.
I guess it's time to start planning to go back.
So tell me, do you love to read about places you've been to?
Synopsis:
Journalist Mark Adams has spent a lot of time reading and editing stories for travel magazines. This time he decided to be part of the story and investigate allegations brought against Hiram Bingham III by retracing the famous explorer's journey.
Part travel journal, part adventure story and part history lesson, Adams takes the readers into the extraordinary and colorful land of Peru in his search to find out what exactly was Machu Picchu.
Buy Turn Right at Machu Picchu from Amazon.com*
More Books by Mark Adams*
Zohar – Man of la Book
Disclaimer: I got this book for free.
*Ama­zon links point to an affil­i­ate account, the money is usually spent on books
Article first published as Book Review: Turn Right at Machu Picchu by Mark Adams on Blogcritics
Related articles
BOOK BLOGGERS – Have you read "Turn Right at Machu Picchu"? If so link up your review below:
--- Please like and follow ManOfLaBook.com ---
Summary
Reviewer
Review Date
Reviewed Item
Turn Right at Machu Picchu: Rediscovering the Lost City One Step at a Time by Mark Adams
Author Rating





Product Name
Turn Right at Machu Picchu: Rediscovering the Lost City One Step at a Time by Mark Adams