Welcome to a new feature of my blog where I'd list books from a certain category which you can download for free.
I call this feature Tightwad Tuesday because I'm a tightwad…and it's Tuesday.
For the Kindle:
After researching the transcripts of the Nuremburg Trials and interviewing 'The Remnant' or Jewish survivors of the holocaust, many still living in Israel; Othniel Seiden was compelled to write their startling and remarkable stories of World War II. In this stunning and compelling historical novel about the Jews who were able to remain free and fight, Seiden documents their survival, their suffering, their missions and their guerrilla warfare tactics against the Nazi occupation forces.

Also, well documented, the tragedy of Kiev and now infamous ravine of Babi Yar where it is thought that nearly a million people, Jews and non-Jews alike were massacred. These brave few escaped the certain death of their co-religionists by acts of bravery and sheer determination to live. The myth that the Jewish people 'went to their deaths like sheep to slaughter. . .' is put to rest forever in the stories of "The Remnant."

In Denmark, in 1943, many heroes were created: the top Nazi who did his best to ensure that almost all of Denmark's Jews escaped to safety, the ordinary Danish people who risked everything to help, and the reluctant German soldiers who looked the other way so the Jews could escape. This short story deals with the true story of what happened, as well as telling the story of a brave friendship between Erich, a German soldier, and his Jewish friends.

This story will appeal to anyone who enjoys an interesting read, as well as students of history, World War II and religion. It is suitable for adults and mature young adults. The approximate word count is 2,800 words.
Here's the fastest, easiest way to become a Deli Maven right in your own kitchen! Discover the fun of making your own delicious Pastrami, Corned Beef, Tongue, Rye Sandwich Bread, Dilly Deli Mustard, Cole Slaw, Salad Dressings, Navy Bean Soup, and other deli treasures. You'll be delighted by this easy-to-use cookbook with simple step-by-step instructions, spiced and garnished with witty tips from an expert chef!

HOMEMADE PASTRAMI AND TO-DIE-FOR CORNED BEEF even includes reliable online sources for the best supplies and ingredients! Order your copy of this excellent ebook now, and receive it in an instant!
and last but not least… one I simply couldn't resist including:
At last "Kosher Recipes for Dogs" provides you with over 60 recipes that you can make for your dog. This book also includes a special section on foods that you should never feed your dog, a section on vegetables, and a section on portion control.
---
For the nook: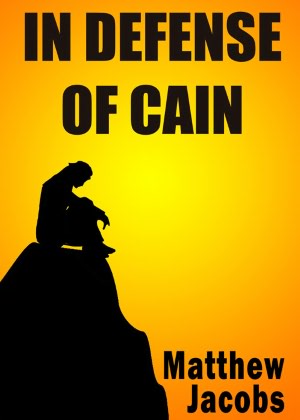 In this unique and clever book, first-time author Matthew Jacobs explores the story of Cain and Abel from Cain's point of view. Using textual analysis, rabbinic commentary, and a healthy dose of imagination, Jacobs shows that Cain's story is full of richness and complexity.
--- Please like and follow ManOfLaBook.com ---