About:
Three Lives of Tomomi Ishikawa by Benjamin Constable is an imaginative novel. This is the debut novel for a very promising new writer.
352 pages
Publisher: Gallery Books;
Language: English
ISBN-10: 1451667264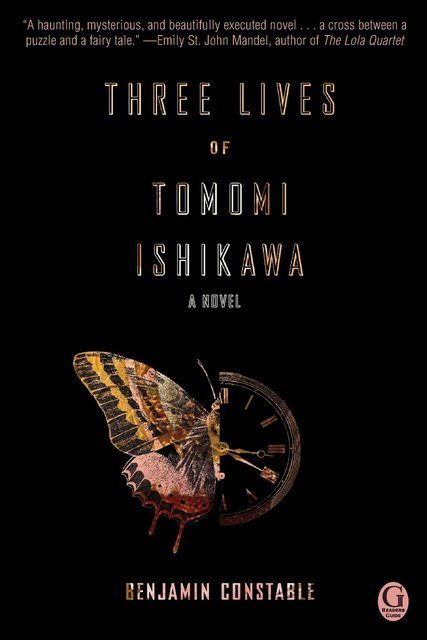 My rating for Three Lives of Tomomi Ishikawa – 4
Buy this book in paper or elec­tronic format*
Thoughts:
Three Lives of Tomomi Ishikawa by Benjamin Constable (website | Facebook | @b_constable | Goodreads) is an imaginative and somewhat interesting novel. I loved the way it was written, with a slight of hand and a healthy sense of humor, but as the story progressed it started to fall a bit flat.
The one enigma which is constant throughout the book and in between the lines is the relationship between Tomomi Ishikawa and Benjamin Constable. That relationship is confusing to say the least because there is one real relationship and two imaginary ones: the real relationship and the fictional his to hers and hers to his. While I think it was a great premise and something that would certainly be applicable to real life, the relationship between the characters and between the relationships themselves was never really explored.
As much as I try I cannot characterize this book, I admire Mr. Constable for writing a novel which defies a genre. I think that part of the enjoyment of this book is that it defies normal conventions – it's part mystery, part thriller, part comedy, part tragedy, a psychological thriller and a love story all mixed in together.
It seems that Mr. Constable has put much work and thought into this book and had either very good advice or read his own story as if he is reading someone else's work. The narrator (Mr. Constable himself) is always a step ahead of the reader narrating this quirky story with a wink and a smile.
The novel is a fascinating read, if only for the literary strolls through New York City and Paris, the characters are interesting as well as a story which has several angles all told by the same narrator. Not all plot points are neatly tied up in this book, much like real life, even the ending is ambiguous but in my opinion, the ending didn't really matter.

Synopsis:
Tomomi "Butterfly" Ishikawa committed suicide but left her best friend, Benjamin Constable, a trail of clues which lead him from Paris to New York and back – the cities she called "home". Ben is searching for journals and notes left specifically for him.
Ben goes on his quest which gets stranger with each new finding. With his imaginary cat and a girl which helps him around the unfamiliar territories in New York, Ben discovers new aspects of his friend which he never imagined.
Buy this book in paper or elec­tronic format*
Zohar — Man of la Book
Dis­claimer: I got this book for free.
*Ama­zon links point to an affil­i­ate account
--- Please like and follow ManOfLaBook.com ---