About:
Winter in Wartime by Jan Terlouw is a fictional book set in World War II. The book is a Dutch classic originally called Oorlogswinter.
220 pages
Publisher: Lemniscaat USA
ISBN: 1935954024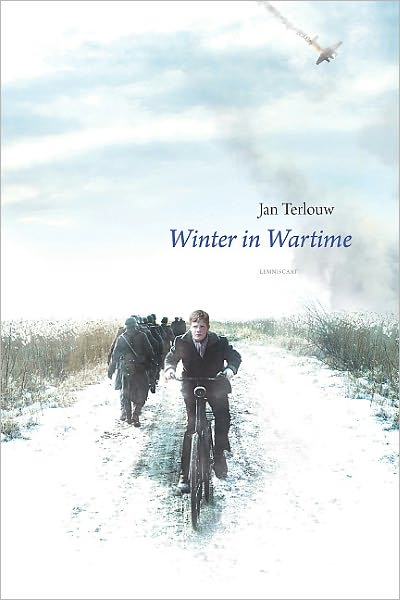 My rating for Winter in Wartime – 5
Buy & Save on Winter in Wartime through the ManOfLa­Book affil­i­ate account on:
Ama­zon* | Book Depos­i­tory US | Book Depos­i­tory UK
Thoughts:
Winter in Wartime by Jan Terlouw certainly deserves its status as a Dutch classic. Mr. Terlouw took a very serious subject matter and wrote a gripping, suspenseful story filled with humor and wit.
While the book is geared towards the Young Adult (YA) market, it is by no means condescending or depressing, quite the opposite, part of its charm is the intelligence, warmth and positive way in which the story is laid out and tackles difficult yet appropriate subjects.
For those of us who love history, we realize what an especially horrible time was the last winter of World War II for many of the Nazi occupied lands. The book shows the hardships and sorrows as well as the heroism and preservation of its young protagonist assuming adult responsibilities.
Even though many people and bloggers have been surprised by the quality of YA books, I'm not one of them. Some of my favorite books were, and still are the wonderful YA fiction I read in my youth. The genre hasn't changed, just gotten the recognition it has always deserved.
So tell me, what is your favorite YA book?
Synopsis:
It is the end of World War II and 14 year old Michiel becomes unwittingly involved with the Dutch Resistance while aiding a wounded British soldier.
Buy & Save on Winter in Wartime through the ManOfLa­Book affil­i­ate account on:
Ama­zon* | Book Depos­i­tory US | Book Depos­i­tory UK
Zohar – Man of la Book
Disclaimer – I got this book for free.
*Ama­zon links point to an affiliate account
Article first published as Book Review: Winter in Wartime by Jan Terlouw on Blogcritics
Related articles
BOOK BLOGGERS – Have you read "Winter in Wartime"? If so link up your review below:
--- Please like and follow ManOfLaBook.com ---