About:
"Uncle Misha's Partisans" by Yuri Suhl is a fictional book following the adventures of a Ukrainian boy during World War II. The book is meant for young adults (YA) and should be read as such.
211 pages
Publisher: Shapolsky Publishers
Language: English
ISBN: 0933503237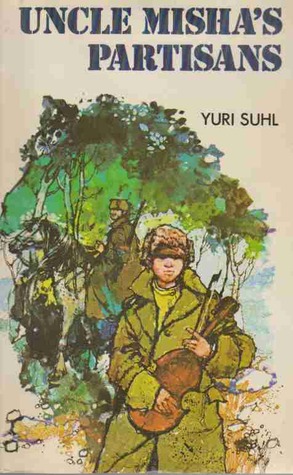 My rating for Uncle Misha's Partisans – 5
Buy Uncle Misha's Partisans from Amazon.com*
More Books by Yuri Shul*

Thoughts:
The book, "Uncle Misha's Partisans" by Yuri Suhl, first came to my knowledge through a post on The Children's War blog. What caught my eye was the name of one of the partisans, Yoshke, which is similar to my great-uncle's nickname (Yoseph or Yoshko) who was also a partisan during World War II.
We only know bits and pieces about my great uncle's experiences as he never fully relayed them to anyone. He was fond of saying that he was 'jealous of dogs' during that time.
This award-winning book (1973 The Sydney Taylor Book Awards, 1974 National Jewish Book Awards Jewish Book Council) reminded me of the books I used to love as a boy 10-13 or so, which is just about the age this book is recommended for. It is well written, excellent story that doesn't insult the intelligence of young adults.
What I'm surprised by is that I have never heard of Yuri Suhl before, I have my friend Alex at The Children's War blog to thank for the belated introduction.  Mr. Suhl wrote poetry in Yiddish and children's books in English.  Born in Poland, Yuri Suhl came to the United States sometime in his 20s, he graduated from night school and began teaching English to kids of Yiddish-speaking families.
Yuri Suhl died in New York on November 17, 1986.
Synopsis:
Twelve year old Mitek comes home after his violin lesson to find that his family has been killed by Hitler's death squads. Mitek runs away and finds a group of armed Jewish partisans led by a man named Uncle Misha. He is met by Yoshke and Berek, two partisans who at first refuse to believe he is Jewish. However Mitek tells them that his family hid under the guise of Christians until they were outed, he goes back to camp under his birth name – Motele.
Once at the partisan camp, Yoshke takes Motele under his wing. Soon Motele is allowed to go mission against the Nazis.
Buy Uncle Misha's Partisans from Amazon.com*
More Books by Yuri Shul*
Zohar – Man of la Book
Dis­claimer: I bought this book
*Ama­zon links point to an affil­i­ate account, the money is usually spent on books
Related articles
BOOK BLOGGERS – Have you read "Uncle Misha's Partisans"? If so link up your review below:
--- Please like and follow ManOfLaBook.com ---
Summary
Reviewer
Review Date
Reviewed Item
Uncle Misha's Partisans by Yuri Suhl
Author Rating





Product Name
Uncle Misha's Partisans by Yuri Suhl