About:
The Man in the Rockefeller Suit: The Astonishing Rise and Spectacular Fall of a Serial Impostor by Mark Seal is a non-fiction book tracking one of the biggest con artists of our time (that has been caught). Assuming a series of names, one man fooled successful business people and high society for decades spreading huge lies, so preposterous they were believed.
336 pages
Publisher: Viking Adult
Language: English
ISBN-10: 0670022748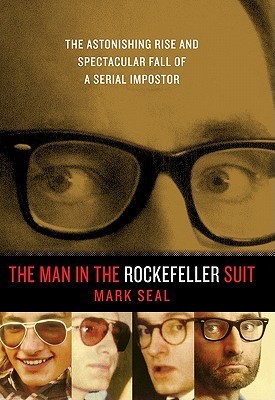 My rating for The Man in the Rockefeller Suit –

5
Buy this book in paper or in elec­tronic for­mat
through the Man of la Book Affil­i­ate Account
Thoughts:
The Man in the Rockefeller Suit: The Astonishing Rise and Spectacular Fall of a Serial Impostor by Mark Seal is one weird, infuriating book, yet fascinating and difficult to put down. Tracking the journey of German immigrant Christian Karl Gerhartsreiter who arrives in the United States at age 17 the book is filed with the kind of stories that no-one would have believed.
Unless they were true.
Weird because the book is by nature incomplete (Gerhartsreiter is still in jail). Gerhartsreiter passes himself off as an heir to American aristocracy, part of the successful Rockefeller line who calls himself Clark Rockeffeler and manages to convince some of the smartest people in the world of his fake identities (he had several) without any real achievements. If anyone would have bothered to fact check just a few of his outrageous claims many heartaches could have been averted.
It is also infuriating for much of the same reasons. Americans are known for our work ethic (it's true), and here is some guy, faking an accent, wearing preppy clothes taking credit for stuff he hasn't done enjoying the fruit of success from trees he never planted, watered or got his hand dirty spreading manure. Generations of Americans becoming financial slaves, buying degrees, learning and killing themselves just to get a step ahead in life, while Mr. Gerhartsreiter / British Royal Christopher Chichester XIII,/ movie producer Crowe / Rockefeller / Captain Chip Smith strolls right in, snags jobs with Wall Street firms, marries a smart, beautiful and successful woman simply spreading lies.
Mr. Seal keeps quoting Hitler's minister of propaganda Joseph Goebbels: "The bigger the lie, the more it will be believed". Gerhartsreiter is living proof of that saying.
The author does a fantastic job in his research, I lost track of how many people he interviewed, yet the pace is brisk and the narrative reminded me more of a novel of suspense than a recounting of recent history. Weaving two storylines together, one of the con man pre-Rockefeller era who is linked to disappearance and murder of a married couple; the other, the more famous one, of the kidnapping of his own daughter Reigh.
After reading this book, Gerhartsreiter is as big a mystery as ever. We still have no idea why and how he managed to fool so many smart people (neither does the police). We are constantly told of his swagger, charm and attractiveness yet none of the pictures included force those claims (to his credit, Mr. Seal does attest that the subject didn't like his picture taken and when it was, he made sure to make a face or hide).
Myself and the rest of my fellow ugly guys in the world still have a chance.
Hooray… I guess?
Synopsis:
Clark Rockefeller has never existed, yet he was the pinnacle of success of a con man. Born in a small village in Germany, Christian Karl Gerhartsreiter came to the United States on a student visa and began his voyage of trickery.
For 30 years, the man assumed a series of identities, moving up the social ladder and be in a 12 year marriage to a successful businesswoman, a Harvard MBA who believed his lies. However, the one person he couldn't con, his precious daughter, was his biggest downfall and where the house of cards he so carefully built started to crumble.
Buy this book in paper or FREE in elec­tronic for­mat
through the Man of la Book Affil­i­ate Account
Zohar – Man of la Book
Disclaimer: I got this book for free.
Related articles
BOOK BLOGGERS – Have you read The Man in the Rockefeller Suit? If so link up your review below:
--- Please like and follow ManOfLaBook.com ---