About:
"Tess of the d'Urbervilles" by Thomas Hardy is a fictional book published in 1891. The book follows Tess through her trials and tribulations in Victorian England.
544 pages
Publisher: Barnes & Noble Classics
Language: English
ISBN-10: 1593082282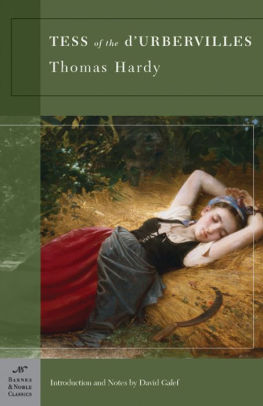 My rating for Tess of the D'Urbervilles – 3
 Buy Tess of the d'Urbervilles from Amazon.com*
More Books by Thomas Hardy*
Thoughts:
"Tess of the d'Urbervilles" (pronounced Derbyvilles) by Thomas Hardy (Biography) is one of those books which I think bored literature professors love. There is much social commentary, hidden meanings, sinister motives and a double entendre to almost every phrase. The more you read the book, the more of you'd discover.
I, however, am not bored nor am I a literature professor. The reason I am no longer bored is because I finished reading this very descriptive book. I did like the story, that of a poor, pure farm girl who is being used as a rag for every man she falls for but keeps coming back to them like a long-lost puppy until she loses her mind.
While Mr. Hardy does lavish the reader with his description of the physical world, farms, corn, sheep, the English countryside and people's physical appearance, he left something to be desired for character development. Every time we read about Tess he tells us what a pretty lady she is, but we never gain any insights into her psyche, thoughts or feelings. Yes, she's beautiful and naïve, we got that in the first chapter.
By the time you finally get to a page that is somewhat interesting, you know you're going to pay for it with pages and pages of useless descriptions and observations. I'm sure Mr. Hardy meant those pages as a commentary, but the story get lost in the words.
The few interesting events that do happen in this book are being told in such short order that it seems the author glossed over them on purpose. Tess' traumatic rape, something that is one of the most important plot points in the book, is told in a cold manner without any insight into Tess' psyche during and/or after the event.
The characters, which we never got to fully know, act contradictory to their type whenever it suits the author and without any explanation to their strange change of behavior. Tess' husband, the rebel in Victorian terms, leaves her because she'd been raped but protects her after she commits murder. I felt that this action was in contradiction to the pages upon pages in which Hardy labored to build the man to the reader.
I certainly do appreciate Thomas Hardy's command of language and the technicalities of writing. I certainly did not hate the book, but I did not like it. I can certainly see why this book is a classic, it can be studied, pontificated about, dissected and taught.
So tell me, which one is your least favorite classic?
Synopsis:
The book is divided into seven parts:
Phase the First: The Maiden – in which we meet Tess and the story is set up. Tess' father, a poor man, discovers he is of noble heritage and in his joy sends his daughter, Tess, to try and assimilate with the rich d'Urbervilles. Tess meets Alec d'Urbervilles who makes advances at her which end up in rape.
Phase the Second: Maiden No More – Disgusted with Alec, Tess goes back home and gives birth to a boy who eventually dies.
Phase the Third: The Rally – Two years go by and Tess is ready for a fresh start. Tess gets a job at Mr. & Mrs. Crick's Talbothays  Dairy outside the village. Tess also meets new friends fellow milkmaids, Izz, Retty, and Marian and meet Angle Clare again whom we met in Part I.
Phase the Fourth: The Consequence – Angel Clare goes back home to visit his pious parents and discusses his marriage plans with them. While they want him to marry a schoolmistress, Angle is more inclined to marry a someone more practical – like a beautiful milkmaid. Angel asks Tess to marry him and she accepts but her conscious is bothering her about not being a virgin. Tess' mother tells her not to say anything and the marriage goes as planned. Angle confesses to Tess about an affair he had, Tess takes the opportunity to confess her situation.
Phase the Fifth: The Woman Pays – Angel is appalled by Tess' confession and spends the wedding night on the sofa. After a few days Tess suggests they'll separate. Angel gives Tess money and goes to Brazil to start a new life. Tess and her friends get a new job which is hard physical labor. Tess goes to visit Angel's parents who don't know who she is, she overhears them discussing his sham of a marriage.
Phase the Sixth: The Convert – Rapist Alec d'Urberville has converted to Christianity (from what?) and has the nerve to beg Tess never to tempt him. Tess' father dies and the family gets evicted. Homeless they are forced to take shelter in the churchyard. Tess writes Angel a long letter asking for forgiveness but realizes that he has done her wrong. Angel, not having any luck in Brazil, returns home.
Phase the Seventh: Fulfilment – Returning home Angel goes to find Tess and ask for her forgiveness. Tess, now living with Alec, asks Angel to leave and never come back, while she goes and blames Alec for losing her love again. Tess kills Alec and hurries after Angel which grants her forgiveness (how noble). They sleep in Stonehenge only to wake up surrounded by police. Tess is put in prison and executed.
 Buy Tess of the d'Urbervilles from Amazon.com*
More Books by Thomas Hardy*
Zohar – Man of la Book
Disclaimer: I got this book for free
*Ama­zon links point to an affil­i­ate account, the money is usually spent on books
Related articles
BOOK BLOGGERS – Have you read "Tess of the d'Urbervilles"? If so link up your review below:
--- Please like and follow ManOfLaBook.com ---
Summary
Reviewer
Review Date
Reviewed Item
Tess of the d'Urbervilles by Thomas Hardy
Author Rating





Product Name
Tess of the d'Urbervilles by Thomas Hardy