About:
Temptation by Douglas Kennedy is a fictional book which takes the reader on a ride from the height of success to the lows in life. What happens when a gilded door opens to a man who suddenly has ample opportunities and Hollywood clout?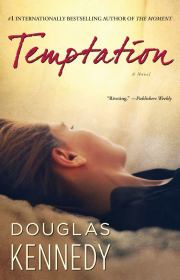 My rating for Temptation – 4
Buy this book in paper
 or in elec­tronic format.
Thoughts:
I have never read any of Douglas Kennedy's books before, Temptation was my first one. The novel was a fast read, sarcastic and the narrative flowed from the start to the end.
I could never put my finger on why I liked this book. I've been to California but I don't "get" the culture, mind set, and attitude of the west coast. I also don't "get" much-ado-about-nothing scandals and why do people actually care.
Yet, from some strange reason the book grabbed me, which I can only attribute to Mr. Kennedy's storytelling. I found the characters to be very relatable, David the screenwriter and protagonist isn't exactly likeable but I could certainly feel his struggle.
The story of rise to the pinnacles of professional success and the sharp descent from those heights is an attention grabber. I was yelling in my head for David to slow down a bit, but I cannot say I wouldn't have done the same given the circumstances and opportunities – as far fetches as they might be.
The book asks some questions which I often asked myself – mainly about the bad choices we make in life. Of course it's easy to look back and see where you made these mistakes, but are they really mistakes?
Is putting your faith in a "financial professional" who is only after your wallet a mistake or a scam? Or are they one and the same?
This is a fun book, something to read on these lazy summer weekends.
Synopsis:
David Armitage, a Hollywood screen writer, has gotten his big break. One of his scripts was bought for TV and hailed as ingenious.
David reinvents himself, walks out on his wife and daughter and is hired by Philip Fleck, a billionaire, to work on a very strange collaboration.
Taking the plunge, David finds himself on a rollercoaster in the celluloid jungle where nothing is appears as it is and everyone is out for themselves.
Buy this book in paper
 or in elec­tronic format.
Zohar – Man of la Book
Disclaimer: I got this book for free
Related articles
BOOK BLOGGERS – Have you read Temptation? If so link up your review below:
--- Please like and follow ManOfLaBook.com ---