About:
Ozma of Oz by L. Frank Baum is the third story in the fictional series taking place in the land of Oz. While certainly not as popular the first story in the series (my thoughts) the rest are very imaginativeas well.
272 pages
Publisher: HarperCollins; 1st ptg. edition (May 24, 1989)
Language: English
ISBN-10: 0688066321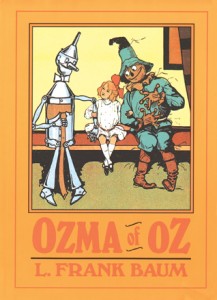 My rating for Ozma of Oz – 4
Buy this book in paper or FREE in elec­tronic for­mat
through the Man of la Book Affil­i­ate Account
Thoughts:
Ozma of Oz by L. Frank Baum is less dark then the previous books, more fairy tale like but all funnier and less annoying. I loved the parts where Ozma's army, which consisted of many officers but only one solider, was part of. From some reason that struck me as hillerious.
I have to say that the reason I enjoyed Ozma of Oz more than the previous two is because the narrative is more streamlined. There are less side stories and better focus on a single goal which is more tangible than just an idea ("home").
Also, there is less chauvinism and racism than the previous books, especially book 2 The Mar­velous Land of Oz (my thoughts). The characters, especially the female ones, are no-nonsense and say what they mean straight and to the point.
This is a fun read, short and worth the time spent.
So tell me, what's your favorite Oz story?
Synopsis:
On a vacation from Kansas to Australia, Uncle Henry and his niece Dorothy Gale are caught in a fierce storm which throws Dorothy off the ship. Dorothy finds herself in a crate with Billina, a yellow hen.
As the survivors wash ashore, Dorothy discovers that Billina can talk and guess they are in a"fairy country" but not Oz because of the seashore. Soon they meet Tik-Tok, a mechanical man and go to the Land of Ev. There our travelers meet Ozma, the Tin Woodsman, the Cowardly Lion, The Scarecrow as well as the Hungry Tiger who are there also to rescue the royal family.
Buy this book in paper or FREE in elec­tronic for­mat
through the Man of la Book Affil­i­ate Account
Zohar – Man of la Book
Disclaimer: I bought this book as part of  The Com­plete Wiz­ard of Oz Col­lec­tion
Related articles
BOOK BLOGGERS – Have you read Ozma of Oz? If so link up your review below:
--- Please like and follow ManOfLaBook.com ---
Summary
Reviewer
Review Date
Reviewed Item
Ozma of Oz by L. Frank Baum
Author Rating





Product Name
Ozma of Oz by L. Frank Baum