About:
"Holy Terror" by Frank Miller is a new graphic novel which has our heroes fighting Al-Qaeda. The book was written after 9/11 and it feels like it.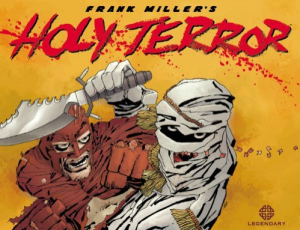 My rating for Holy Terror – 3
Buy Holy Terror from Amazon.com*
More Books by Frank Miller*
Thoughts:
To say that "Holly Terror" by Frank Miller is an angry graphic novel would be an understatement. In a recent interview Mr. Miller said that he hopes the book will "really piss people off", I think he achieved his goal.
This is an wrathful book and it seems like it was written right after 9/11 when the nation was in an ass-kicking mood, Miller's rage towards Al-Qaeda is literally spilling off the pages. However, ten years later the book is sometimes funny, sometimes disturbing, yet simplistic and could certainly be interpreted as hateful. That being said, a little of Mr. Miller's storytelling genius shines through.
"Holy Terror" was originally supposed to be a story about Batman, but even for Batman this book is far too violent. But the two main characters, The Fixer and cat burglar Natalie Stack, represent Batman and Catwoman, they have different names and look a little different, but there really is no mistaking who they're suppose to be.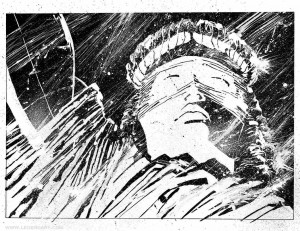 As in many of his books, Mr. Miller tells a subtle story, allows the book to breath in between panels and certainly makes strong statements about world politics with few, if any, words.
The art, in Milleresque style, works only for the first quarter of the book. It seems to me that the last three quarters or so of the book the art became sloppy. The dialog, some brilliant, some ridiculous but mostly propaganda, which, in my opinion, is about a decade too late.
My problem with the book is that it crosses a fine line. The book infers, intentionally or not, that Al-Qaeda represents Islam. That's like saying that the Ku Klux Klan represents Christianity. Both groups have aspects of their religion in their hateful propaganda but I would say that the vast majority of Christians I met during my life despise the KKK. The message in the book, crystal clear by the way, is not convincing, not balanced with weak reasoning.
Frank Miller is a wonderful artist and an intelligent writer, but this book felt as if a Miller fan wrote it, not the man himself. The art is all over the place, some pages are absolutely brilliant, while some are just a mass. However, with all its positives, this is an oversimplified book with a resentful message.
There are a few examples which are obvious, The Fixer calls the terrorists "Mohammed" because "you've got to admit that the odds are pretty good it's Mohammed". The name is shortened to Moe later on in the book. A disturbing page contrasts American watching a Transformers-like movie vs. Arabs stoning a woman to death while cursing her.
As if these are two different types of entertainment.
I have read this book on a computer through a preview galley I got. I haven't decided yet if I want to pick up the printed version. Maybe I'll see something I didn't on the computer.
The book is dedicated to slain Dutch filmmaker Theo Van Gogh (1957 – 2004). Mr. Van Gogh, great-grand son of the brother of the famous painter, was murdered by Islamic extremists for making a movie about the treatment of women in Islam.
So tell me, what propaganda books have you read lately?
Synopsis:
The book introduces The Fixer chasing after cat burglar Natalie Stack, if you're thinking Batman and Catwoman you got it right. After they beat each other up the blood filled introduction ends.
Then terror strikes in Empire City, The Fixer and Stack go on a rage fueled mission after those responsible.
Buy Holy Terror from Amazon.com*
More Books by Frank Miller*
Zohar – Man of la Book
Disclaimer – I got this book for free.
*Ama­zon links point to an affil­i­ate account, the money is usually spent on books
Related articles
BOOK BLOGGERS – Have you read "Holy Terror"? If so link up your review below:
This post is in the 81st

--- Please like and follow ManOfLaBook.com ---
Summary
Reviewer
Review Date
Reviewed Item
Holy Terror by Frank Miller
Author Rating





Product Name
Holy Terror by Frank Miller