About:
"A Tree Grows in Brooklyn" by Betty Smith is a historical fiction book set in … Brooklyn. The book was published in 1943 and became an instant best seller despite criticism on its content.
528 pages
Publisher: Harper Perennial Modern Classics
Language: English
ISBN: 0061120073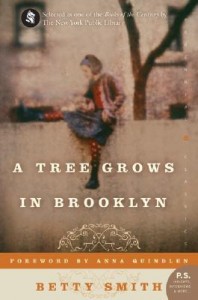 My rating for A Tree Grows in Brooklyn – 5
Buy A Tree Grows in Brooklyn from Amazon.com*
More Books by Betty Smith*
Thoughts:
"A Tree Grows in Brooklyn" by Betty Smith is considered an American classic and an essential part of American literature. The book describes life in turn-of-the-century Brooklyn and is a testament for the hope kindled in immigrants who came to the United States.
Not surprisingly, this well written book emphasizes the value of good educations, good teachers, community and family.
"Before they went to bed, Francie and Neeley had to read a page of the Bible and a page from Shakespeare. That was a rule. Mama used to read the two pages to them each night until they were old enough to read for themselves. To save time, Neeley read the Bible page and Francie read from Shakespeare."
To be honest, I ignored this book for a long time. I had several chances to read it but chose something more "manly" each and every time. Finally the "classic book club" I belong to has chosen this book and I decided that this is it.
I'm going to read it.
The reason I always passed on "A Tree Grows in Brooklyn" is because it has always been billed as "a book every girl/woman should read". That tag line didn't sound to enticing to me.
Once I did read it I discovered that all the taglines and advertising did injustice to the book. This is not as "a book every girl/woman should read" but a book that everyone should read. While the story is also about the coming of age of young Francie Nolan, it is also a touching testament to the early immigrant spirit and the hardships of life which were rarely written about first hand.
"'This could be a whole life,' she thought. 'You work eight hours a day covering wires to earn money to buy food and to pay for a place to sleep that you can keep living to come back to cover more wires. Some people are born and kept living just to come to this."
Even though this book was not written as historical fiction, I believe that it squarely falls in that category in 2011. The story is a powerful look at the time using relatable characters (even for guys). The book reminds us how lucky we are to live in this time, where the daily dilemma is should you download the new song from iTunes instead of not knowing where you're going to get those ten cents to feed your family for the day.
So tell me, what book that you put off because you thought you wouldn't like surprised you once you read it?
Synopsis:
Young teen Francie Nolan's family has many struggles. This Irish-American family faces poverty, alcoholism and the brutal realities of life in turn of the century New York City.
Buy A Tree Grows in Brooklyn from Amazon.com*
More Books by Betty Smith*
Zohar – Man of la Book
Disclaimer: I bought this book
*Ama­zon links point to an affil­i­ate account, the money is usually spent on books
Related articles
BOOK BLOGGERS – Have you read "A Tree Grows in Brooklyn"? If so link up your review below:
--- Please like and follow ManOfLaBook.com ---
Summary
Reviewer
Review Date
Reviewed Item
A Tree Grows in Brooklyn by Betty Smith
Author Rating





Product Name
A Tree Grows in Brooklyn by Betty Smith