I got this book for free as part of the TLC Book Tour promotion.
Harper has made available one (1) copy of "This Book is Overdue"  to be given to one lucky winner – enter at the end of the post.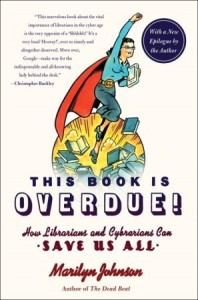 My rating for "This Book is Overdue" – 4
About:
"This Book is Overdue: How Librarians and Cybrarians Can Save Us All" by Marilyn Johnson (Website| Twitter)is a non-fiction account of the author's research and pontifications of how librarians will guide our culture into technological literacy.  The book paints a picture of how the role of librarians is changing with technology.
Get a discount on "This Book Is Overdue" through the ManOfLaBook affiliate account on:
Amazon |Book Depository US | Book Depository UK
Thoughts:
Disclaimer: I am a big fan of public libraries.
Public libraries are some of the few public buildings the public actually uses. Whether you are rich or poor, educated or not and no matter to which political party you donated to, you are always welcome at your local library – they are the great equalizer of our society.
I loved what this book was trying to do – make librarians relevant at the age of Google. Being in the IT field for the past 20 years (wow, it really has been that long) I can certainly appreciate the "information overload" message and how sifting through mountains of information could be a show stopper (how can you possibly make a decision?) unless you know how to find the relevant information.
But we don't even need to go this far – in some states you cannot even file for unemployment benefits unless you do it on-line.
Each chapter in the book has a different focus, some chapters were more interesting than the others but they are mostly independent from one another.  Ms. Johnson explores different aspects of the job librarians do everyday (archiving, categorizing and helping patrons) with an eye towards the technological modernization of their profession.  When it comes to organizational models this book is fun, honest and a fast read.  Even though the book is well written, the chapter where Ms. Johnson explores the online librarian games and fantasy world is…well…boring.  However, if you trudge through it (or skip it) the book keeps on with its fascinating premise.
I wish this book would have been more focused. While every section certainly has its merits, most everyone who will pick up this book knows the relevancy of librarians to us "commoners" and most of the book is about the author's experiences researching…this book. The points in the book would make a great reference point next time you go to the town meeting to argue against slashing the library's budget (again).
A bit of nitpicking – a book about the importance of research should have picked up on the fact that the PATRIOT Act is an acronym and hence capitalized.
Synopsis:
The book is divided into 12 distinct chapters, these don't have to be read in order because each chapter stands on its own.
Chapter 1: The Frontier – talks about how the role of librarians is changing.
Chapter 2: Information Sickness – how librarians can help us with information overload.
Chapter 3: On the Ground – the alliance between librarians and IT folks
Chapter 4: The Blog People – Blogging librarians are introduced.
Chapter 5: Big Brother and the Holdout Company – devoted to the case of librarians suing the government as to not to comply with the PATRIOT Act.
Chapter 6: How to Change the World – Librarians helping students from developing nations.
Chapter 7:  To the Ramparts! – Anarchist librarains hit the streets… watch out.
Chapter 8: Follow That Tattooed Librarian – Why the stereotype f the shushing librarian no longer holds true.
Chapter 9: Wizards of Odd – Librarians and virtual reality running virtual libraries
Chapter 10: Gotham City – a closer look at the librarians at the New York City Public Library
Chapter 11: What's Worth Saving? – with all those billions of documents and terabytes of data, how does one decide what to save?
Chapter 12: The Best Day – Opening day of a new user friendly and dazzling library is opening in Darien, CT
Get a discount on "This Book Is Overdue" through the ManOfLaBook affiliate account on:
Amazon |Book Depository US | Book Depository UK
Rules:

Contest is for one (1) new copy of "This Book is Overdue".

There will be ONE (1) WINNER

Must be a US / Canada mailing Address

Ends Wednesday February 9, 2011

Winners will be chosen using Random.org

Winners will have 24 hours after my initial contact to write back their mailing address, otherwise alternate winners will be picked
Zohar – Man of la Book
Related articles
BOOK BLOGGERS – Have you read "This Book Is Overdue"? If so link up your review below

--- Please like and follow ManOfLaBook.com ---