About:
The Tenth Witness by Leonard Rosen is a novel featuring Henri Poincaré. My understanding is that this is the second in the series, however this is a standalone book and is a prequel to the first in the series.
288 pages
Publisher: Permanent Press
Language: English
ISBN-10: 1579623190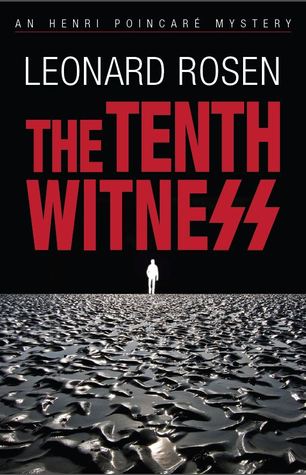 My rat­ing for The Tenth Witness — 5
Buy this book in paper or electronic format*

More Books by by Leonard Rosen
More Rec­om­mended World War II books on Man of la BookStore
Thoughts:
I did not know what to expect from The Tenth Witness by Leonard Rosen (website | Facebook | @len_rosen), I knew it was World War II but that's just about it. What I got was an exciting globetrotting mystery, ex-Nazis, Interpol and a love story to boot.
This is a very well written story with engaging and realistic characters. While the novel takes place several decades after World War II, the plot hangs on the zeal, secrecy and ruthless fascist mentality of the Nazis. The plot unwinds very fast and the author captures the atmosphere and exotic locals masterfully.
Even though the book does not take place during World War II, but refers to it in hindsight, it does deal with the aftermath of the war and the many moral issues which it brings up. The author links the Nazi slave camps with 1970s third world factories and facilities who exploit workers much like the robber barons did to the Chinese immigrants in the US, when workers got paid a salary which was not even enough to rent a room from the company's hotel or buy food in the company's store. Instead of looking to please Hitler, these same type of people are looking to line their pockets on the backs of those who work simply to make a few pennies a day if they're lucky.
The book deals with difficult subjects, whether it is evil, racism, or greed. The pragmatic protagonist learns some difficult lessons during his journey and discovers that the human race is not easy to judge.
Synopsis:
Engineer Henri Poincaré works hard to try and bring up the frigate HMS Lutine which went down almost 200 years before with millions worth of gold in its belly. As a reward for his hard work, Henri takes a break and hikes at low tide across the Wadden Sea. Henri gets to know his guide, Liesel Kraus who is a director at Kraus Steel and is still haunted by a violent history and corrupting wealth.
The close Henri and Liesel get, the more Henri realizes that his recently deceased "uncle" had a sad history with Krauss Steel during World War II.
Buy this book from Amazon.com

More Books by by Leonard Rosen
More Rec­om­mended World War II books on Man of la BookStore
Zohar — Man of la Book
Dis­claimer: I got this book for free.
*Ama­zon links point to an affil­i­ate account
--- Please like and follow ManOfLaBook.com ---