About:
The Scarlatti Inheritance is Robert Ludlum's first book.  This fictional book was first published in 1982.
368 pages
Publisher: Bantam
ISBN: 0553271466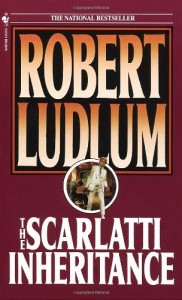 My rating for The Scarlatti Inheritance –3
Great price on this book in paper for­mat
through the Man of la Book Affil­i­ate Account
Thoughts:
Even though The Scarlatti Inheritance is one of the first books Robert Ludlum it is one of the last ones I read so you could imagine my delight when I found this a Ludlum book I haven't yet read during a book drive at my daughter's school.
The book starts in Washington DC where Major Matthew Canfield is being sent to meet a high ranking German official with promises to divulge information to help end WWII.
From the second chapter, to one before last, the story is told as a back flash about the Scarlatti family. Giovanni Scarlatti, a poor but ingenious Italian immigrant, marries a rich heiress, his employer's daughter, named Elizabeth who helps him take over her business in as well as many other companies to become extremely rich within a decade.
The Scralattis had three sons, one died in WWI, the other was ordered by his mother not to enlist, and the third – the troublemaker – enlisted and, to everyone's surprise, became a war hero.
What no-one knew is that the third son, Ulster, coned his whole regiment to believe he killed many Germans and saved them all, only trying to escape the front. Together with a German officer he took on a second identity of a German solider he killed named Heinrich Kroeger.
Ulster's plan to bankrupt his family and help Hitler's Third Reich is the plot which takes us, his mother and the book's hero, field accountant (not yet Major) Canfield, around the globe and into mysterious financial transactions.
I'm a big Ludlum fan but honestly – I don't know what to think of this book. It's certainly isn't as good as other Ludlum books but it is an exciting read, well paced and the characters are not one-dimensional freaks.
The thing that this book falls short on is the ending. It seems that Ludlum used the "Star Trek" type ending – where a complex story is neatly tied up in 5 minutes or less.
Books in sim­i­lar vein:
The Eng­lish Assas­sin
 by Daniel Silva
Field Gray by Philip Kerr
Pandora's Grave by Stephen Eng­land
Great price on this book in paper for­mat
through the Man of la Book Affil­i­ate Account
Zohar – Man of la Book
Disclaimer: I bought this book.
BOOK BLOGGERS – Have you read The Scarlatti Inheritance? If so link up your review below:
--- Please like and follow ManOfLaBook.com ---