About:
"The Hypnotist" by M. J. Rose is the third book in the fictional "The Reincarnationist" series. Each book, while part of the series, is free standing.
The pub­lisher has made avail­able one (1) copy of "The Hypnotist" to be given out– enter at the end of the post.
416 pages
Publisher: Mira; Original edition
ISBN: 0778329208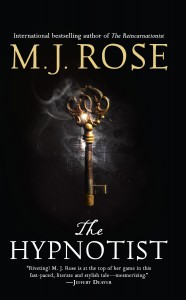 My rating for The Hypnotist – 4
Buy & Save on "The Hypnotist" through the ManOfLa­Book affil­i­ate account on:
Ama­zon |Book Depos­i­tory US | Book Depos­i­tory UK
Thoughts:
"The Hypnotist" by M. J. Rose (website | Facebook |Twitter) was, for me, just the right book at the right time. I moved to a new state with my family, as hard as the move was, being the head of the family did not allow a meltdown (even though I came close).
Even though this book is the third in a series, the series itself is non-sequential. While there are some recurring minor characters and themes, one does not need to read the books in order since each one is a standalone story even though it might help you enjoy the book more.
The chapters are easy to read and even though there are multiple characters I did not get confused. There are many twists in the book which kept the mystery and suspense up and, of course, all come together at the end.
I would categorize the book as supernatural, only because I don't read supernatural often. However, it is more a mix of history, mysticism and art. Ms. Rose's writing is engaging and fluid. The scenes where the author describes past civilizations, which play a key role in the book, are interesting, fascinating and expertly rendered.
The book was a wonderful read to escape from the pressures of everyday life and extra, added on pressures which I might detail at a different time.
So tell me, what was the last book you read which was at the right place at the right time?
Synopsis:
FBI agent Lucian Glass is investigating an art collector who is destroying expensive masterpieces and becomes involved in a strange case of hostage negotiation. While working the case, Lucian goes undercover at the Phoenix Foundation and discovers he has flashbacks of past life experiences.
Lucian questions his sanity and reality while getting directed towards an intricate plan to breaking into the Metropolitan Museum of Art and steal Hypnos, the 1,500 year old sculpture of the Greek God of sleep.
Buy & Save on "The Hypnotist" through the ManOfLa­Book affil­i­ate account on:
Ama­zon |Book Depos­i­tory US | Book Depos­i­tory UK
Give­away
Rules:
Con­test is for one (1) new copy of "The Hypnotist".
There will be ONE (1) WINNER
Must be a US/Canada mail­ing Address
Ends Sun­day July 5, 2011
Win­ners will be cho­sen using Random.org
Win­ners will have 24 hours after my ini­tial con­tact to write back their mail­ing address, oth­er­wise alter­nate win­ners will be picked
Congratulations: lesliewrightauthor@
TLC Book Tour for "The Hypnotist":
Monday, June 6th:  Hanging with Bells – giveaway only
Tuesday, June 7th:  Drey's Library
Thursday, June 9th:  The Whimsical Cottage
Friday, June 10th:  Darkeva's Dark Delights
Monday, June 13th:  Unabridged Chick
Wednesday, June 15th:  Bewitched Bookworms
Thursday, June 16th:  Truth, Beauty, Freedom & Books
Friday, June 17th:  Supernatural Snark
Monday, June 20th:  Fiction State of Mind
Tuesday, June 21st:  Misfit Salon
Wednesday, June 22nd:  Wag the Fox – review
Wednesday, June 22nd:  Wag the Fox – author guest post
Thursday, June 23rd:  A Buckeye Girl Reads
Friday, June 24th:  Pensive Bookeaters
Monday, June 27th:  Wordsmithonia
Wednesday, June 29th:  Man of La Book
Thursday, June 30th:  The Ranting Dragon
Tuesday, July 5th:  Love to Read for Fun
Zohar – Man of la book.
Dis­claimer: I got this book for free as part of the TLC Book Tour pro­mo­tion.
Article first published as Book Review: The Hypnotist by M. J. Rose on Blogcritics.
Related articles
BOOK BLOGGERS – Have you read "The Hypnotist"? If so link up your review below:
--- Please like and follow ManOfLaBook.com ---