About:
The Hollow Man by Oliver Harris is a novel introduction a new character, cop Nick Belsey, in what seems to be the first of a series. Nick Belsey is an English policeman who seems to have no ethics and corrupt morals which constantly traps him in the lure of easy money.
The pub­lisher is giv­ing away one copy of this book –to enter fill out the Raf­fle­copt­ter form at the end of the post.
480 pages
Publisher: Harper Paperbacks
Language: English
ISBN-10: 0062136712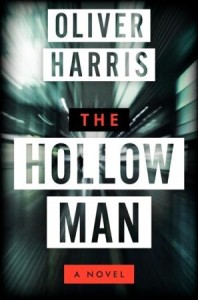 My rating for The Hollow Man –

4
Thoughts:
The Hollow Man by Oliver Harris (website | @oliharrisauthor) moves at a breakneck speed with a spectacular ending which plants destruction and bedlam in the English countryside.
The book introduces anti-hero Nick Belsey, a Detective Constable in the Hampstead CID. Belsey has a serious drinking problem, is ethically challenged and is in personal debt up to his eyeballs. In fact, his paycheck no longer covers the minimum amount owed on his loans.
Belsey breaks every rule he could find, from squatting in a house where a crime has happened, to taking money, identity theft and more. All while getting away with whatever he can, justifying himself to … well… himself knowing all the while that he's full of bull.
The story starts off a bit slowly, but then moves at breathtaking speed. The book is written with a noir feel to it, almost like watching an old movie where the cop is drunk and grumpy in an attractive, world weary sort of way
This is an excellent first novel, I loved the corrupt character of Nick Belsey and am looking forward to more corrupt shenanigans. Suspend disbelief, put on your seat-belt and get ready for a good time.
Related Reads:
The Silent Oligarch by Chris Morgan Jones
Synopsis:
It is when London police detective Nick Belsey woke up in a crashed police car, drunk, no phone, and no wallet  did he realize that he hit rock bottom. As he goes to the police station, certain that he is going to get fired, he sees a missing person's report from a luxurious section of London. As he goes into the house, Belsey assumes the identity of its occupier, Alex Devereux who lived alone, has no heirs and it seems that he simply vanished.
The broke detective sees an opportunity to start his life anew wearing a new identity. But there are people looking for Devereux and Belsey quickly realizes that the scammer is about to be scammed and scrammed if he isn't too careful.
 Buy this book in paper or elec­tronic format*
Give­away
Give­away ends: Novem­ber 21, 2012

US/Canada Ship­ping Addresses Only

No PO Boxes

Win­ners will have 24 hours to write back with their address, oth­er­wise an alter­nate win­ner will be picked
Congratulations: pointyredhats@
TLC Book Tour for The Hollow Man by Oliver Harris
Tuesday, October 23rd: Literary Feline
Wednesday, October 24th: Ted Lehmann's Bluegrass, Books, and Brainstorms
Thursday, October 25th: Life In Review
Wednesday, October 31st: Jen's Book Thoughts
Tuesday, November 6th: Seaside Book Nook
Wednesday, November 7th: Book Him Danno!
Tuesday, November 13th: she treads softly
Wednesday, November 14th: Man of la Book
Thursday, November 15th: A Bookworm's World
Tuesday, November 20th: No More Grumpy Bookseller
TBD: nomadreader
BOOK BLOGGERS – Have you read The Hollow Man? If so link up your review below:
--- Please like and follow ManOfLaBook.com ---