I got this book for free as part of the TLC Book Tour promotion.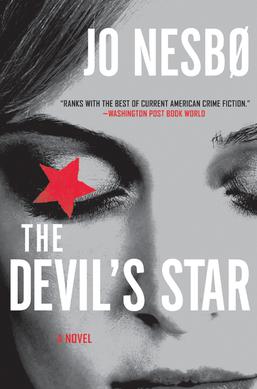 My rating for The Devil's Star – 4
About:
"The Devil's Star" by Norwegian author Jo Nesbø (Website | Facebook)is the third in the Harry Hole series. This novel  was published in Norway in 2003, but just recently arrived in the USA.
Purchase "The Devil's Star" through the ManOfLaBook affiliate account From:
Amazon |Book Depository US | Book Depository UK
Thoughts:
The Devil's Star" by Jo Nesbø has a very complex hero. Harry Hole is a tormented alcoholic who is losing his relationship and sanity. Harry would have lost his job as a police officer if he didn't have the uncanny ability to solve complex crimes.
The book deals with a Norwegian serial killer, who we are constantly reminded is a rarity in Norway because it's an American disease. Along with the killer, Harry Hole also has to prove that a standout officer is corrupt and battling the bottle.
The novel introduces a sophisticated plot which, to be honest, had me scratching my bald head several times trying to remember who are the characters, what did they do (or didn't do) and their relationship to the plot. Like any good book, all the pieces fit together at the end.
The plot is good, but not great. The only issue I have with the plot is that the ending almost comical, as if it is out of a James Bond movie where the villain talks so much he lets the hero out of his clutches.
The detail Nesbø brings to his characters and to the city of Oslo is riveting and compelling. Nesbø takes the reader into the dark nooks of the city where tourists rarely venture.
the writing was very good and extremely readable. The author has a gift of observing the obvious and bringing it to the reader's attention in a round about way.

"Beyond the crackle of Harry's breathing on the phone Beate could hear a car stopping and the engine being switched off. At that moment she noticed a change in the way the light fell in her room"
I cannot tell you how many times I've had that feeling, when I'm deep into a project and suddenly look up without noticing what time it is. Nesbo captured those kind of feelings expertly.
Purchase "The Devil's Star" through the ManOfLaBook affiliate account From:
Amazon |Book Depository US | Book Depository UK
Synopsis:
A serial killer is on the loose in Oslo.  The killer cuts off his victims' fingers and leaves a tiny five corners red diamond shaped like star.  Oslo police officer Harry Hole
tries to catch the killer before he kills again, all the while battling corruption within the Oslo police force and his own demons.
TLC Book Tour for "The Devil's Star":

Tuesday, February 1st: Jenn's Bookshelves
Wednesday, February 2nd: Life In Review
Monday, February 7th: A Fanatic's Book Blog
Thursday, February 10th: Dolce Bellezza
Monday, February 14th: Reviews from the Heart
Thursday, February 17th: A Bookworm's World
Monday, February 21st: Life in the Thumb
Tuesday, February 22nd: Rundpinne
Thursday, February 24th: Man of La Book
Monday, February 28th: Chaotic Compendiums
Zohar – Man of la Book
Related articles
BOOK BLOGGERS – Have you read "The Devil's Star"? If so link up your review below

--- Please like and follow ManOfLaBook.com ---