About:
The Death and Life of Superman by Roger Stern takes the saga of "The Death of Superman", "Funeral for a Friend", "Reign of the Supermen", and "The Return of Superman", which appeared in comic book form in the mid 80's, and turns it to light reading.
418 pages
Publisher: Bantam Books
Language: English
ISBN-10: 055309582X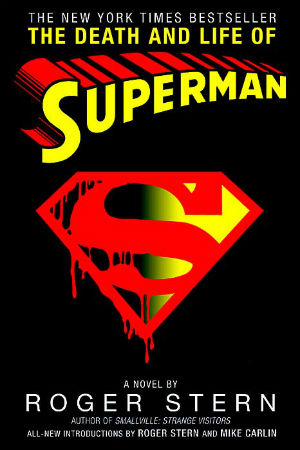 My rating for The Death and Life of Superman – 3
Buy this book from Amazon.com*
Thoughts:
The Death and Life of Superman by Roger Stern, a successful comic book writer, is a fast read for someone who wants to get caught up on the Death of Superman saga without reading the comics. There is a bit of suspense and mystery, but overall there are no surprises and little mystery.
The story starts slow, does not have the "punch" of the comic book stories, but picks up pace towards the end. I was a bit disappointed because it seemed to me that the author just looked at the pictures of the comic books, and turned them into words, without adding any new insight. There are no character studies, smart twists or interesting tidbits.
Mr. Stern does a good job introducing Superman to new readers in a format which is easy to follow and swallow. It's too bad that at the time this book was written, the YA genre was just starting. One can add a whole lot of teenage angst and melodrama to this book in order to make it more marketable to the masses a-la Smallville.
Synopsis:
A monster named Doomsday has been discovered buried deep in the earth. Doomsday is programmed for destruction, a killing machine whose gone out of control. As his rampage goes on, Doomsday destroys the Justice League and it is clear that only one superhero is strong enough to stop him: Superman.
Superman battles Doomsday in an epic battle which kills them both in the process. Out of the ashes four new Supermen arise, three claim to be the real Man of Steel.
Buy this book from Amazon.com*
Zohar – Man of la Book
Disclaimer: I bought this book.
*Ama­zon links point to an affil­i­ate account
--- Please like and follow ManOfLaBook.com ---