About:
The Code Breaker: Jennifer Doudna, Gene Editing, and the Future of the Human Race by Walter Isaacson is a biography of the 2020 Nobel Prize winning chemist, who together with her French colleague Emmanuelle Charpentier accepted the award. Mr. Isaacson is an award-winning, notable American biographer.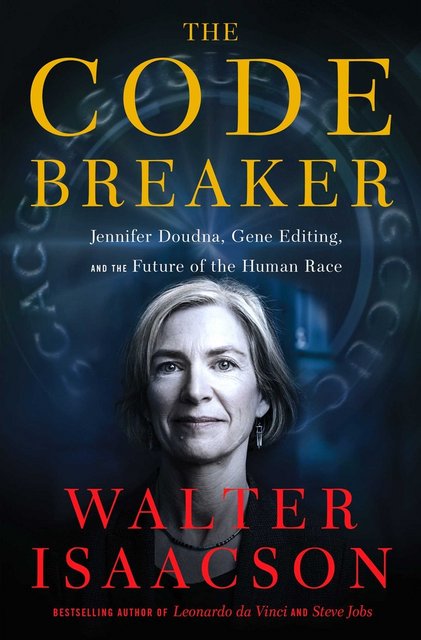 My rating for The Code Breaker – 5
Buy The Code Breaker from Amazon.com*
 More Books by Wal­ter Isaac­son

Thoughts:
This book is much more than a biography. It is an important book for out time which follows the decade long, ground breaking research which allowed scientists to produce a COVID-19 vaccine in record time. From reading other biographies by Walter Isaacson, I can see the appeal. The author devotes a lot of time in this book to the ethics of gene editing.
The Code Breaker: Jennifer Doudna, Gene Editing, and the Future of the Human Race by Walter Isaacson is also a diary of 2020. It starts with Mrs. Doudna driving hours to pick up her son from camp, shortly before he receives a message to leave due to the pandemic. It ends with Mr. Isaacson volunteering for vaccine trials and feeling optimistic.
In between the 2020 bookends, the book follows Mrs. Doudna's journey to create a gene editing tool. The tool known as CRISPR-Cas9 is a revolution in the genetic engineering field, and as Dr. Doudna herself said is actually an international effort. The impact of CRISPR-Cas9 was felt around the whole medical industry, as well as others and society at large.
The genetic scissors that Dr. Charpentier and Prof. Doudna created have benefited humanity immensely in a short period of time. Agricultural scientists created crops that can withstand drought, pests and mold. New cancer curing trials are on their way, inherited diseases might be eliminated, and even customized medication.
And there is also the small matter of a vaccine for a worldwide pandemic. Researchers from all around the world dropped the race for recognition and grants, and posted research on the Internet to benefit the entire scientific community.
Mr. Isaacson did a tremendous amount of research for this book, and boy is he proud of it. He went into labs, edited human DNA using CRISPR, attended conferences, and hub-nabbed with the superstars of the field. As always, his knack of explaining complex scientific theories in a simple, straightforward manner for us laymen to – maybe – being to grasp them.
I'm glad this book was written, we need more scientific heroes like Dr. Doudna, Dr. Charpentier, Francisco Mojica (who was the first to sport CRISPR), Lithuanian biochemist Virginijus Šikšnys, and many others. Prof. Doudna, however, is the thread that holds the story together.
Buy The Code Breaker from Amazon.com*
 More Books by Wal­ter Isaac­son
Zohar — Man of la Book
Dis­claimer: I got this book for free.
*Ama­zon links point to an affil­i­ate account
--- Please like and follow ManOfLaBook.com ---
Summary
Reviewer
Review Date
Reviewed Item
The Code Breaker: Jennifer Doudna, Gene Editing, and the Future of the Human Race by Walter Isaacson
Author Rating