About:
The Boxer's Story: Fighting for My Life in the Nazi Camps is a memoir of Nathan Shapow as told to Bob Harris. Bob Harris is a sports writer and sports editor, Nathan Shapow is a retired patienter living in LA, California.
256 pages
Publisher: The Robson Press
Language: English
ISBN-10: 1849541906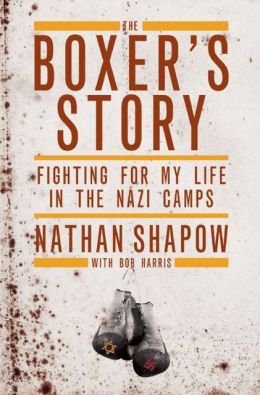 My rating for The Boxer's Story – 5
Buy this book in paper or elec­tronic format*
More Rec­om­mended World War II books on Man of la BookStore
Thoughts:
The Boxer's Story: Fighting for My Life in the Nazi Camps by Nathan Shapow and Bob Harris is a powerful, easy to read book which tells of Mr. Shapow's time as a slave/prisoner of Nazi Germany in Latvia. Mr. Shapow, an amateur boxer and avid sportsman, survived the war due to his strength, agility, wits and a sheer amount of pure luck.
Mr. Shapow survived several labor camps and even Rikenau. How did he ever survived the Nazi killing machine, especially due to his habit of stealing food (a crime punished by execution, even if it's moldy bread) is a testament to the human spirit.
When I got the book I thought it would be about inmates boxing in concentration camps for the enjoyment of their Nazi captures and avoiding death by pummeling each other. While there are several boxing matches in the book, Shapow uses his fists, skills as a fighter and friends he made in the gym to survive the war.
After surviving the war, Shapow went to Palestine (instead of going from being under "Hitler's boot to Stalin's heel") and fought in Israel's War of Independence and was reunited with his father who left a decade before.
I certainly see the benefit of being able to fight, I actually insisted that my kids will learn some sort of martial art (I always wished I did). Whether we like it or not, there is a benefit to knowing how to throw a well placed punch or kick and be able to free yourself from a villain.
Also, people who know how to fight, usually don't get into brawls.
Shapow is honest in the book, he talks about mistakes he made, things he regret, the sadness and guilt of watching friends being murdered without the ability to help and other difficult stories.
Buy this book in paper or elec­tronic format*
More Rec­om­mended World War II books on Man of la BookStore
Zohar — Man of la Book
Dis­claimer: I got this book for free.
*Ama­zon links point to an affil­i­ate account
--- Please like and follow ManOfLaBook.com ---