None of us are surprised when common sense loses to political correctness – we encounter that almost on a daily base, after all that is what "procedures" and "policies" are for. It has recently been announced that Alabama-based publisher is planning new versions of "Huckleberry Finn" and "Tom Sawyer" that will replace the "n" word with "slave" and will remove "Injun" as well – just for good measure.
Professor Alan Gribben of Auburn University of Montgomery has came right out and stated that his hope is to make the books more palatable for teachers and as not to offend school children in particular.
I understand the Professor's good intentions, but committing an act which can is the equivalent of literary graffiti in order to impose political correctness upon one of the most politically incorrect authors in American history has already backfired.
As far as I know, Huck Finn is read in high-school.
Newsflash Professor Gribben – people in high-school are no longer "children", they are young adults in the US and full fledged adults in most other parts of the world.
The last thing these young adults need is a sugar coated past. The past is non-negotiable and Twain's use of dialect is accurate, as a quick reflection of the records will clearly show.
If anyone ever read Huck Finn they should know that "slave" does not replace the "n" word. Twain used the "n" word in Huck Finn not as a synonym for "slave" but as a derogatory term used by slave owners and/or slavery proponents to dehumanize other people which would make it OK for them to be considered property. In the story Jim is no longer a slave but a free man; however he is kept being referred to in belittling manner to make sure he understands that he is by no means equal to the white man – free or not.
Twain's message was loud and clear, using his stylistic brilliance and ability to satire he brutally denounced the institution of slavery. Any changes to Huck Finn, as uncomfortable as they are, take away from Twain's hard hitting bite.
Worst of all – this is all done to avoid a conversation.
It would be more beneficial for Professor Gribben to write a new edition which discusses the story.
Why did Twain use this provocative language?
What was his message?
A message which in this new edition will be lost.
In today's world much of our intellectual capacity is diminishing rapidly.
News programs are no-longer news but flat out propaganda telling us what to think in bullet points.
Correction: they don't even report the news.
Yesterday a huge merger of Comcast-NBC was approved by the Justice Department. A merger which could have far reaching effects on all of us but what did we see on TV?
Regis Philbin announcing he'll retire at the end of the season.
La di da.
In a world where anything over a tweet is "long", the grammar and spelling mistakes on social network are jaw-dropping, protecting readers from dwelling into a masterpiece and censoring our most celebrated of authors might not be the best choice. Especially in light of the latest news (a follow up to the all important "Regis" development): Study: College Students Not Learning Much.
After reading Twain's biography (book review) I am sure of one thing: wherever he is, Mark Twain is laughing so hard he must be hurting.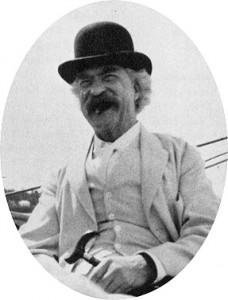 --- Please like and follow ManOfLaBook.com ---